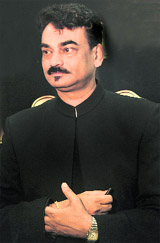 Litterateur of fashion
The moment one sits across Wendell Rodricks, the perfect definition of an oxymoron shines through the glitz and the glamour. One of the most prominent names in the fashion industry lives in the rustic town of Colvale, Goa. Just as he enters, his enigma follows right behind him. Clutching his muse, Evelyn Sharma, he creates a sort of a flurry among the shutterbugs. Apart from the flash of colours on Evelyn, the humble purple shoes declare that Wendell is as effervescent as the industry he is in. In Chandigarh, as a part of the Blenders Pride Fashion Tour, the ace designer senses a great opportunity and once again launches his book- The Green Room.

BOOK MARK: Wendell Rodricks

Reality takes the lead
Two inches taller than the actor cast opposite her, Huma Qureshi was then surprisingly asked to climb on to two inches of heels. The effect was Nawazuddin Siddiqui looked even shorter and the height difference between the two became apparent.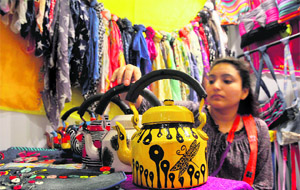 Driven by designs
Meenakshi Sharma, a designer at De Cosmolitan Afaire, Ludhiana creates pieces of fashion from old, thrown-away and waste cloth left-overs. Whether these are her rejuvenated painted old aluminium tea-pots or the accessories, she is keen to reinvent. Her handbags are created with colourful zippers. "Not only do these handbags look interesting, but are very functional as well, with multiple pockets," she says.
taste of waste: Meenakshi Sharma displays her creativity of reusing the thrown away materials

what's on
Craft from the North-East
The rich tapestry of north-eastern India interwoven in its fabric encompassing the traditions of different ethnic origins is on display at Lajpat Rai Bhawan-15, Chandigarh.




art mart: Furniture on display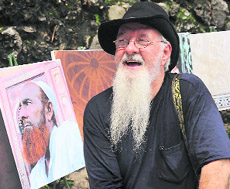 In the name of God
The magic of India lies in its religious aspect. More than how much it attracts those who live here, the kind of attention it gets from the outside world is surprising. On his seventh visit to India, Michael J Wright, along with Lucy Macey, Kerry Macdonald and Caroline Neave have put up a collection of their photographs taken in the last two weeks in India. "I have always been a very spiritual person, so the Vishnu temple at Deogarh was the first place where we started collecting the pictures from," says Michael.
India Calling: Michael J Wright


the 'in' side
Statuesque!
Gardens today are an extension of your homes. Garden statues have graced gardens for centuries. Statues add a decorative element to the landscape and highlight the architecture of your home.

Green thumb
Healthy option
There is a wide range of annual flowers to choose from. But those who want something new are always on the prowl. The innovative gardeners keep adding one or the other feature, plant or amendment in the garden. For this they keep visiting various nurseries or garden stores. But, have you ever explored the possibility of finding something different in medicinal plants?
Master Chef


Summer's last hurrah!
Come September, we bid farewell to the summer heat. Salads shall make way for soups. "Chai garam" will be the pick as opposed to chilled "nimbupaani"! While the humidity still nudges us to partake a cooling drink or a tangy salad, how about giving this year's summer its last hurrah with a show stopper salute? An ice-cream pie? This dreamy delight is a combination of biscuits, ice-cream, nuts and chocolate sauce; only these elements are layered together and re- frozen to create a pie effect. At the time of serving, you cut thick wedges of the pie and drizzle them further with lashings of caramel sauce, runny cream or custard. Don't count calories. Count the resulting hurrays instead!
Stress buster


Deal with tensions right now
Every area of our life is affected by stress and each one of us has created one's own way of dealing with it. Sometimes we allow small things affect us and they slowly start impacting our personalities. Suddenly we find their impact grow tremendous on our lives. Stress accumulates, takes over and we become slaves to our own self created environs and circumstances.
star track
Dream come true
Katrina Kaif's success in Bollywood has been unprecedented. She is loving her world and her life at the moment. She talks about overcoming challenges and dealing with success.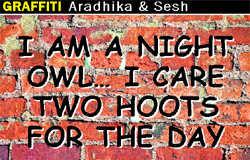 No hang ups


Hush hush affair


Sridevi's on a roll


Mutual admiration club


Family photo
chatter box
In conversation with Sonali Bendre
Sonali Bendre will soon be back on the telly with a brand new show, Hindustan Ke Hunarbaaz. The actress shares her excitement about the show and her film assignments.



Same old story!


Snap deal


Happy to get lucky


On a shopping spree...


Back on track