Will she, won't she? Cong awaits Didi's next move


New Delhi, September 16
The Trinamool Congress, a key UPA ally, is keeping Congress political managers guessing in what shape her threat of a "firm step" will materialise in the event of the government not rolling back the hike in diesel price and FDI in multi-brand retail.

Film fury: US asks its nationals to skip J&K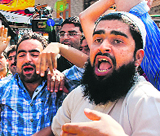 New Delhi, September 16
The US has advised its nationals to avoid travel to Jammu and Kashmir after some religious leaders asked American citizens to leave the state to avoid public wrath in the wake of video clips on the web disparaging Prophet Mohammed.
People protest against the 'anti-Islam' film in Srinagar.

World: Western embassies on alert as Muslim anger simmers


Editorial: Ignore the film