'FDI in multi-brand retail would hit small-time traders'
Neeraj Bagga
Tribune News Service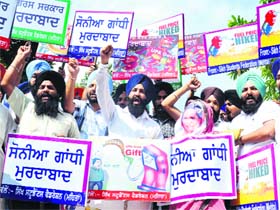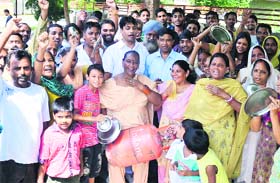 Activists of the Sikh Student Federation and (right) residents shout slogans during protests against the hike in prices of diesel and LPG and allowing 51 per cent FDI in multi-brand retail in Amritsar on Sunday. photos: Vishal Kumar
Amritsar, September 16
Retail merchants of grocery, chemists, stationary, cosmetics and various other categories, besides distributors, felt that the government's decision of allowing 51 per cent Foreign Direct Investment (FDI) in multi-brand retail would prove a death knell for small-time shopkeepers. They also felt that distributors and middle and high segment retailers would be severely hit as fallout of the decision.
Narinder Singh, a general store owner, said the move was expected to hit retail grocers in a big way.
Narinder said he found a considerable number of his customers having moved to chain stores and foreign players would deal another blow to their age-old business.
Inderjit of the All-India Rehri Farri Union, Punjab, while expressing his anguish over the government's decision of allowing FDI in the retail sector, said the move would lead to a sharp decline in the business of small shopkeepers and would eventually render them unemployed.
He recalled that Prime Minister Dr Manmohan Singh's chief economic advisor Kaushik Basu had issued a statement in Washington this April that India would see some important reforms, including on subsidies, and might be partial diesel decontrol and FDI in retail in the next six months. He said the words had now become true.
Punjab Pradesh Beopar Mandal president Amrit Lal Jain said multi-brand retail stores would not only take away the share of retail grocery stores, but also of pharmaceuticals, apparels and other essential items in the time to come.
He said the past experiences stated that wherever retail majors had opened their stores in any city of the world, middle and upper-level shopkeepers of that area had vanished.
He said there were about six crore retailers, whether big and small, across the country.
He said it was frustrating to know that the leaders who had taken the decision did not have any personal experience of studying the working of retail shops and their role in society. He questioned these leaders why did not they offer these companies to run the Public distribution System (PDS), which is in a shambles.
He said the move would add unemployment and create imbalance in society. Subsequently, law and order problem would increase.
Amritsar Distributor Association president Om Prakash Sharma said the very existence of distributors was in danger as companies deal with them directly and supply material to their stores. He cited the example of the first wholesale cash and carry store in the country, which was set up in the holy city by Indian private telecom major Bharti Enterprises in collaboration with the US major Wal-Mart a couple of years ago, which captured over 30 per cent share of the business of distributors.
He said his association was representing 300 distributors of the city and one of their members had recorded his monthly sale of Hindustan Lever products coming down from Rs 10 crore to Rs 6.5 crore.
He said the similar trend was being witnessed by other distributors as well. These stores were now offering material to retailers at 15-day credit.
Amritsar Retail Karyana Association president Kuldeep Rai Gupta, running a grocery store in the Ram Bagh area of the city, said these international brands had plenty of resources and could set their own prices of various products after procuring them in bulk from markets, which amount to monopoly.
He felt that distributors, wholesalers and reputed stores would be severely hit as the customers would switch over to these organised stores.
He said there were over 2,300 karyana stores associated with the association and a majority of them offered employment to at least three persons, besides, indirectly to thousands others, including labourers.
Lata Sharma, a house wife and resident of Hathi Gate, said being a consumer she felt that there would be plenty of choices to choose from various kinds of outlets.
She said since these companies would procure material in bulk and competition among the companies would ultimately benefit the consumers as they would manage to procure these products at low and competitive rates.
Shamsher Singh, an employee, said the coming up of chain stores selling grocery, vegetables, fruits and other items did not eliminate retail stores and these had been doing like before.
He felt that consumers would have more liberty to choose and might find an opportunity to buy eatables at low prices.