75 Pak Hindus in district appeal for Indian citizenship
Aparna Banerji
Tribune News Service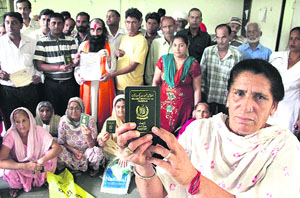 Pakistan-passport holding Hindu families, staying in Jalandhar, at the Deputy Commissioner's office to demand an Indian citizenship on Tuesday. Photo: Sarabjit Singh

Jalandhar, September 18
A delegation of Pakistan-passport-holding Hindu families today met Jalandhar Deputy Commissioner Priyank Bharti, asking for Indian citizenship to 75 Pakistan Hindu persons staying in the district.
While there are a total of about 200 Pakistan Hindu families in Jalandhar, the affidavits for the citizenship of 125 of these families were recently cleared for the Indian citizenship from the state and forwarded to the Central Government. The request regarding 75 more individuals, whose cases for citizenship are yet to be forwarded, was made today.
Led by Surinder Kumar Billa, chairman, All India Hindu Shiv Sena, these families, which returned from Pakistan and have been staying in India for the past 10 to 20 years, claimed that their day-to-day lives and socio-economic status had been hit because of their lack of an Indian citizenship. The affidavits of the 125 persons (which have been cleared) were submitted to Jalandhar Deputy Commissioner Priyank Bharti, who forwarded these to the Punjab Home Department after due verification. From there, they were advanced to the Union Home Ministry.
The remaining families rued that due to the lack of citizenship, after every couple of years, they were supposed to get their passports renewed, failing which they would be considered illegal.
Most of the men, who have returned from Pakistan, have been working as labourers.
Talking about the trouble that Indian Hindu families have undergone in Pakistan, Surinder Kumar Billa said, "Of the 175 families that recently came from Pakistan to Jodhpur, one of the men was denied any land in Pakistan to cremate his father. He was told their land will get dirty if they let him cremate his father there."
"Families told me their homes were raided and their girls were taken away. Some of the families, when they sought recourse through Pakistan courts in such situations, in turn, had the Balsphemy Act slapped on them," Billa added.
Banarsi Lal (54), who came to India in 1980, said, "Nobody wants to give us jobs. The same crisis looms large over the future of our children."
Shakuntala, who stays at Kabir Nagar here, said, "Until we get our citizenship cleared, we cannot hope for a happy future. Until the status of their father's citizenship in the country is clear, no one will give jobs to our children."
The families are not happy with the promise of a long-term visa as announced recently by the government. "What will we do with a long-term visa? Even if we get a visa for 10 years, after the term ends, we will again be back to scurrying for a renewal and moving in and out of offices. That will not work for us. We want citizenship," said Swarna, a resident of Bhargo Camp here. While some of these families even claimed they had got ration cards and voter I cards made, they said until they get a citizenship, they would be continue to feel out of place in the country and their children would not have a secure future.
Cases to be duly considered
Surinder Kumar Billa, representative of the Pakistan Hindu families, came to me with the request to grant them Indian citizenship. I have asked the 75 persons in question to apply with the requisite documents. Once they have done so, their cases will be duly considered
— Priyank Bharti, Deputy Commissioner, Jalandhar