Stage is her world

"Excellence doesn't come in lorry-loads…" there is no disputing this profound assertion. Of course, the lady who says so is herself a shining example of excellence. Meet the National Award-winning actor and art activist Arundhati Nag, whose acting prowess has embellished innumerable films and plays and whose commitment to theatre has flourished by way of Ranga Shankara — one of Bangalore's best known theatre addresses. Living and breathing theatre for over four decades, she considers her role in the Hindi play Bikhre Bimb, a Ranga Shankara production that brought her to City Beautiful, the most cherished one.

play on: Arundhati Nag
Fresh pastures
When charming Karanvir Bohra showed up in Chandigarh on Monday, one couldn't but notice the huge gap between his off-screen and on-screen persona, once again. If he plays a rather abusive husband in the show Saubhagyavati Bhava, in real life he is making a movie to please his wife Teejay.
The remix king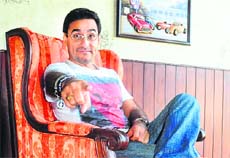 He doesn't need a strong agenda or a forum to bring down the house, neither is he dependent on a celebrity to walk hand in hand with him to his console, Dj Suketu can create an uproar with his foot tapping remixes. All he needs to do is spin Bin Tere Sanam, scratch it a bit, and the crowd couldn't stop rhyming their steps to him.


spin time: DJ Suketu
Par Excellence
The Chip...
As explained in the last week's article the chip has a steep angle of approach and the club makes contact with the ball in a de-lofted position. To get the club to approach on a steep path we need to get the club
Soul searching
It's likely that most of the questions either revolve around her famous husband, or somehow find their way back to Vicky Donor actor Ayushmann Khurrana, no matter what! Nevertheless, Tahira Kashyap steers the conversation back to her second book Souled Out. "If you are looking for a heavy literary dose, this book is not for you. It's a very simple collection of stories that reflect human nature, bravery, suspicion, insecurities et al." She adds, "There is a part of me in every story though they all may not be personal experiences.

story teller: Tahira Kashyap
TRENDSETTER
Chic sense
The Gen Next is definitely smart when it comes to dressing up. They know how to blend comfort with fashion. The modern-day staple of jeans and tees make them comfortable while looking trendy and in style. MBA student, winsome Jasleen Chabbra, too belongs to the same genre-
Step in style
Anyone who follows trends will tell you that you need to know the pulse of fashion to stand out in a crowd. So, as the season changes and you plan to slip into new shoes here's a little sneak peek into what the market has to offer for women this season.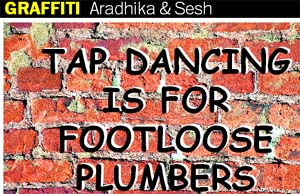 STAR TRACK
Moustache for a realistic act
Bollywood needs actors, not
A wider perspective
Rani, what's wrong?
Getting over the past
Friendly chat
One level up
Strange(r) connection
From Fringe to mainstream
Goodbye Madonna, hello Cameron
I never wanted to be a star: Goldie Hawn
chatter box'
Big star, big bucks!