Actor Imran Khan seems to be following in the footsteps of his uncle Aamir Khan as he insisted on growing a moustache for his role in underworld drama Once Upon A Time In Mumbaai 2.
Bollywood's chocolate boy has turned into a tapori for the film, a sequel to 2010 hit Once Upon A Time In Mumbaai. According to sources, the actor was given an option to use a duplicate to avoid hassles of growing a moustache, but Imran decided to do it himself to look closer to his character.
Directed by Milan Luthria and produced by Ekta Kapoor, Once Upon A Time in Mumbaai 2 also stars Akshay Kumar, Sonali Bendre and Sonakshi Sinha.
The actor will also be seen in Vishal Bhardwaj's Matru Ki Bijlee Ka Mandola, where he will play a Haryanvi guy. It also stars Anushka Sharma, Pankaj Kapoor and Shabana Azmi.' —IANS
Bollywood needs actors, not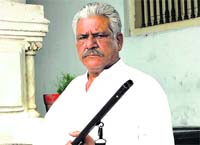 superstars: Pur
Seasoned actor Om Puri feels that character actors are not getting their due and says that the Indian films need them just to enhance the role of the main protagonist.
"It is very rare that character actors get a meaty part. They are there as characters to enhance the hero. They don't have their own individuality," he said.
The veteran, known for his powerful performances in offbeat films of the 1970s and the 1980s such as Godhuli, Bhumika, Aakrosh, Mandi, Party and Mirch Masala, ventured into light-hearted roles with Chachi 420 and later tickled the funny bones of the audiences with comedies like Hera Pheri and Malamaal Weekly.
But now the 61-year-old enjoys satires much more than mindless comedies.
"I don't enjoy comedy for comedy's sake. I enjoyed Malamaal Weekly as it was innocent and harmless fun. Whereas films like Buddha Mar Gaya are disgusting. That kind of humour is low and cheap. Chachi 420 was clean, even though it didn't have a message. I enjoyed Bollywood Calling as well. But I prefer satire," said Om Puri, winner of National Awards for best actor for Arohan and Ardh Satya.
He believes that Bollywood is in dire need of good actors and not just superstars.
"Without superstars also films do well. Vicky Donor ran without any big stars or known faces," he said.
His next is Priyadarshan's Kamaal Dhamaal Malamaal, coming out on September 28, and he said, "We had fun on the set. Nana Patekar is a wonderful entertainer. I am working with him after 30 years. When I worked with him earlier, he was not a brat and now he is a brat."
Talking about his role, he added, "Shreyas Talpade is the protagonist of the film. I am playing his father. My character doesn't have comic scenes. He is an angry old man who is disgusted with his son."
With so many newcomers entering the industry, Puri feels that it is the responsibility of senior actors to mentor them. "Even if he is not so good, it is the responsibility of senior actors to coach him because he is in the cast," he said. —IANS
A wider perspective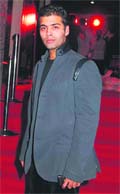 Balanced loyalties: Karan Johar
Known for making larger than life family dramas for the big screen, film-maker Karan Johar is now connecting with the masses on a new level through his appearances on the small screen. He, however, says this is just a phase and he can't work for the medium full-time as he fails to understand the concept of TRPs and finds cinema "far more progressive".
"Indian television has its positives and negatives. It has a huge audience and some shows are very entertaining, but I think it needs to come out of its current zone," said Johar. "Every time they try something new, it does not work and does not get TRPs (television rating points), because of which they go back to doing and showing strange things," he added.
He compares the scenario with the Bollywood box office and feels content on the small screen is more driven by ratings.
"The TV industry lives around TRPs, like the box office for cinema. Every Wednesday morning is a wake-up call for TV people. One day it is Zee TV on top, then it is Colors, and so on. I don't know how does all this work.
"Seeing all this, I think cinema is far more progressive because it gives you an opportunity to make all kinds of movies," he added.
The 40-year-old, head honcho of a leading film banner Dharma Productions, started his tryst with TV as a celebrity chat show host Koffee With Karan, which is now a hugely popular franchise.
He is currently judging the fifth season of celebrity dance reality show Jhalak Dikhhla Jaa with dancing diva Madhuri Dixit and choreographer Remo D'Souza. And now, gearing up for more - as judge on the new season of India's Got Talent (IGT).
Asked if he would ever direct a fiction show for TV, he said, "I could be a judge, a host, but I am not sure if I could be a director over TV.
"I sometimes feel I will be living on MRIs the day I decide to switch over to TV alone. They have so many things to take care of. I am coming back with Koffee With Karan next June, but no fiction for me."
Johar credits his knowledge about TV shows to his mother, who closely follows all popular shows on the medium.
"I will be lying if I say that I am a TV addict, but my mother is obsessed with Indian television and is very happy to see me as a part of these shows. She is a huge fan of Ram and Priya (of Bade Achche Lagte Hain). But I have never been into TV," he said.
Talking about his stint as a judge on Jhalak... and IGT, Johar says he would love to judge a singing show, but thinks he lacks the expertise for that.
"One thing I would love to sit back and watch is a singing show, but I really think I would be the wrong person to judge a singing show. I can judge singing on a very surface level, but I don't have the right expertise to judge it," said the dashing film-maker, who is looking forward to the release of his next directorial Student Of The Year. —IANS
Rani, what's wrong?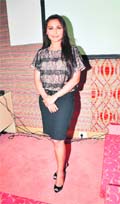 Bizarre move: Rani Mukerji



We think all the videos from Aiyya such as Sava Dollar and Dreamum Wakepum are quite weird. What is Rani actually trying to do? Although all this is quite sporting of her but it seems a little reminiscent of The Dirty Picture
Getting over the past

Moving on: John Travolta
Hollywood star John Travolta says he was on the verge of retiring after his son Jett died three years ago.
The 58-year-old actor and wife Kelly Preston were left devastated when son Jett passed away in 2009 and he says it was only the support from his fans, loved ones and faith in Scientology which prevented him from turning his back on his career.
"I lost my son a few years ago and I had been having quite a rough time. And after three years of getting a lot of support from the church and a lot of support from people - fans and family—I decided that it was OK to go back to work.
"I even thought of retiring at one point, because it just felt like too much," he said.
Travolta, who is making a return with Savages, said that he is still impressed by his extraordinary career achievements. — PTI
Friendly chat

Abhishek Bachchan
Abhishek Bachchan and Rohan Sippy are childhood friends and the director does not want to make movies without him. His current movie stars are Ayushmann and Kunal Roy Kapoor. By way of casual conversation, he asked AB to do a cameo in the movie and he agreed. Now that's what we call a real friendship!
One level up
Dhoom 3 is getting bigger and better. It will be the first Indian film to be released in the IMAX format. 3D is old now! Kudos to the team of the movie. It will be shot with a special camera.
Strange(r) connection
Ileana D'cruz spent more than a year filming Barfi! with Ranbir Kapoor but she hardly knows him because he is a very detached person. He did not open up at all. She made a good conversation with Priyanka Chopra, though.
From Fringe to mainstream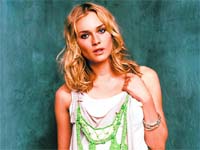 Conscious decision: Diane Kruger
Hollywood actress Diane Kruger is swapping films for the small screen after signing on to star in a new TV show. The 36-year-old will lead the cast of The Bridge, which is based on the hit Scandinavian series i Bron, reported a website.
The series will chronicle a Mexican and US cop duo's efforts to track down a serial killer. Kruger will play a Texan Police Homicide Detective Sonya North.
It will be the blonde beauty's first regular TV role. She made a cameo on boyfriend Joshua Jackson's series Fringe in 2010. Production on the pilot begins this autumn. —PTI
Goodbye Madonna, hello Cameron
Hollywood star Gwyneth Paltrow has reportedly ended her decade-long friendship with pop star Madonna.
The 39-year-old is done with the Queen of Pop and has made fellow actress Cameron Diaz her new best friend, reported a publication. "Everything always revolved around Madonna. She is finally done," a source said. Paltrow, who has been pals with Diaz, 40, for years, has recently upgraded her to BFF status.
"Gwyneth is a nurturer. Cameron is bummed about being single, so Gwyneth sees her as a project," the source added. —PTI
I never wanted to be a star: Goldie Hawn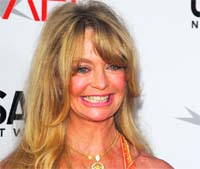 Simple dreams: Goldie Hawn
American actress Goldie Hawn has admitted that she never wanted to be a star and that she became ill with depression when her dreams of domesticity were shattered. The 66-year-old Hollywood A-lister revealed how, as a young dancer, she was happy to live a simple life and get married.
"I didn't want to do anything else. I was so excited to be there. I was away from home and I think I saw the trajectory of my life was going to be dancing.
"Maybe I would get a commercial or two to make more money but I never believed I was going to be a star. I was fearful. It was not something to aspire to, to become well-known star.
"I always thought I was going to go home," she added. —ANI