M A I N N E W S
Pro-Khalistan elements tried to kill me: Lt Gen Brar
Ajay Banerjee/TNS
New Delhi, October 2
Even as Lt Gen KS Brar (retd), who was attacked in London on Sunday, termed it as an attempt to kill him, Indian security agencies are searching for answers to know how the attackers got to know of the travel plans of the General, who is under 'Z category' security.
Gen Brar, who was divisional commander of the 9 Division of the Army that was tasked with flushing out militants holed up in the Golden Temple in 1984 under 'Operation Bluestar', has been on the 'hit-list' of Sikh radical groups.
Gen Brar told reporters in London, "It was an assassination attempt by pro-Khalistan elements. They straight went for my neck with a sharp blade." He said there have been several threats to his life and those had been brought to the notice of the police and army authorities in India.
For security agencies, the attack on means that the General, usually reclusive, was possibly being observed and also that someone inimical to him knew his location in London. It could also mean he was being tracked in India and London, said sources, adding that the Ministry of Home Affairs was waiting for a factual report from the Research and Analysis Wing (RAW).
Gen Brar said the Punjab Government was sympathetic to terrorists as it was supporting construction of a memorial inside the Golden Temple and slammed it for taking the situation back to the 1980's.
Meanwhile, Scotland Yard has appealed for information from members of the public and described the four assailants as wearing dark clothing and long black jackets and sporting long beards.
Looking for ANSWERS
How did the attackers get to know the travel plans of Lt Gen KS Brar (pic)?
It seems that he was being observed and someone knew his exact location in London. Was he being tracked in India and London?

I'm a soldier, won't let go easily: Lt Gen Brar
Prabhjot Singh
Tribune News Service
Chandigarh, October 2
As a sworn enemy of Sikh militants, Lt-General Kuldip Singh Brar (retd) might have been anticipating an assassination bid as he believes that after Operation Bluestar, Jarnail Singh Bhindranwale's men not only swore to take revenge, but have also acted upon it.
Of the five major architects of Operation Bluestar in June 1984, two — Indira Gandhi and General Vaidya — were assassinated while two others — General Sundarji and General Ranjit Singh Dayal — died natural deaths.
"I am the only one who is still alive. They would rather see me dead," he told the media after an assassination attempt was made on him in London on the night of September 30.
General Brar exhibited valour in grappling with those who came to assassinate him even though he was without any security.
On June 6 every year, those owing allegiance to Bhindranwale observe martyrs' day where they renew their pledge to kill him. "But I am a soldier and will not let go easily," asserts the 78-year-old General.
After his retirement from the Army, General Kuldip Singh Brar moved to the highly protected Mumbai Cantonment. Whenever he has to travel out of Mumbai, he informs the local military station that in turn keeps the higher authorities posted. That could be the reason that Indian High Commission was not aware of his presence in London.
Though a born soldier - his father DS Brar retired as a Major General — General Kuldip Brar had been maintaining a low profile for obvious reasons. "As and when I talk about Operation Bluestar, lot of old wounds are revived," he said in an interview months before his present holiday in London.
Incidentally, both General Kuldip Brar — Bulbul to his friends — and Jarnail Singh Bhindranwale, the dreaded Sikh militant leader whom Army troops killed during Operation Bluestar, belonged to the Moga area, a stronghold of the Brars.
Early days
Born in 1934 into a Sikh family, General KS Brar moved to a boarding school at the age of five with a career in Army in mind. He later moved to Doon School and subsequently joined the Maratha Light Infantry in 1954 as a Lieutenant.
During the 1971 action against Pakistan, General Brar commanded an infantry battalion. He was in the first batch to enter Dhaka on the morning of December 16, 1971.
He was honoured with the Vir Chakra for the battle at Jamalpur. Pitted against the 31st Baluch battalion of the Pakistani army, his soldiers had to move across the Brahmaputra at a location where no bridges existed. Therefore, they were able to only carry limited weapons. It was General Brar's motivation that made up for the shortage of weapons in the ensuing battle.
Operation Bluestar
Had Operation Bluestar been delayed by a couple of days, General Brar would have been in Manila with his wife on a month-long holiday. On May 31, he was asked to come to Chandimandir for a briefing where, after consultation, the then Western Army chief General Sundarji and chief of staff General Ranjit Singh Dayal asked him to cancel his holiday and instead, proceed to Amritsar.
It was Operation Bluestar that rendered his career controversial in Sikh circles though he has always justified his action by saying that it was important not only to save Sikhism's most sacred shrine from militants but also dispel the danger of declaration of Khalistan.
Immediately after Operation Bluestar, General Brar faced the wrath of not only the Sikh militants, but also of religiously inclined people including his own relatives.
One of his maternal uncles, who was settled in London, severed relations with him. General Brar said that when he visited his uncle in his last days, his uncle had tears in his eyes while endorsing General Brar's actions as an Army Commander.
His account
Nine years after Operation Bluestar, General Brar decided to come out with a book "Operation Bluestar: The True Story". The book went into eight reprints and finally, one of his ardent supporters even translated it into Punjabi.
In his book and subsequent interviews, General Brar recounted how the operation went. Initially, the Army had planned to start the operation by 7 pm on June 5, 1984, and end it before dawn on June 6. But it was not to be. It was a pitched battle that continued for six days and witnessed a lot of bloodshed.
General Brar maintains that he talked to his men (many of whom were Sikhs) personally on the morning on June 5 and told them what they planned to do and why they had to do it. It was explained that the operation was not targeting any religion, but against some militants who had defiled the temple. The soldiers were given the chance to opt out in case they felt participating in the operation would hurt their religious sentiments.
General Brar maintains that none of his men, including Sikhs, walked away. In fact, in the unit commanded by Lieutenant-Colonel Mohammad Israr (whose 10 guards later led the first unit into the temple premises), a Sikh officer, Second Lieutenant Jasbir Singh Raina, raised his hand as he wished to be the first one to enter the Golden Temple to wipe out the militants.

Capt condemns attack, SGPC keeps mum
Tribune News Service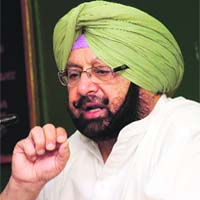 Chandigarh/Amritsar, Oct 2
Punjab Pradesh Congress Committee (PPCC) president Capt Amarinder Singh today condemned the attack on Lt Gen Kuldeep Singh Brar in London on Sunday.
Maintaining that his position on Operation Bluestar was well known to everybody in and outside Punjab, Amarinder said the attack on Gen Brar was highly condemnable and those guilty of it must be brought to book.
Amarinder blamed CM Parkash Singh Badal for creating the situation which led to the attack saying that the establishment of memorials commemorating the event did not allow old wounds to heal.
Amarinder pointed out that the persons who attacked Gen Brar were young and might not even have been born at the time of Operation Bluestar. They must have been provoked by the setting up of the Bluestar memorial.
The SGPC has maintained a silence over the attack on Lt-Gen Brar. In its brief statement, the premiere Sikh body said, "The SGPC has not issued any reaction to the attack on Lt-Gen Brar and, hence, the media should refrain from publishing anything on the SGPC's behalf." Meanwhile, noted lawyer HS Phoolka has condemned the attack.