Pro-Khalistan elements tried to kill me: Lt Gen Brar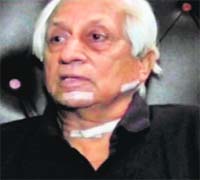 New Delhi, October 2
Even as Lt Gen KS Brar (retd), who was attacked in London on Sunday, termed it as an attempt to kill him, Indian security agencies are searching for answers to know how the attackers got to know of the travel plans of the General, who is under 'Z category' security.


I'm a soldier, won't let go easily: Lt Gen Brar


Capt condemns attack, SGPC keeps mum


Editorial: Deplorable attack
PANCHAYAT EMPOWERMENT
Cong pins hopes on Rahul's Kashmir visit
Srinagar, October 2
With its demand for the implementation of the 73rd Constitutional amendment finding no support from the ruling National Conference, the Congress has now pinned hopes on All India Congress Committee (AICC) general secretary Rahul Gandhi's visit to Kashmir later this week.
Punjab Cabinet gives nod to Rent Act, Habitat Policy
Chandigarh, October 2
Punjab Cabinet today approved the implementation of Punjab Rent Act 1995 with prospective effect to make it apply to tenancies existing on the date of notification of the Act. The existing tenancies would continue to be governed by the Eastern Punjab Rent Restriction Act, 1949.