Last word: Chris Gayle
Cricket's one-man demolition squad
By Rohit Mahajan
West Indies' Twenty20 World Cup win makes for a fine story of courage, hope and resurgence, and Gayle was the game changer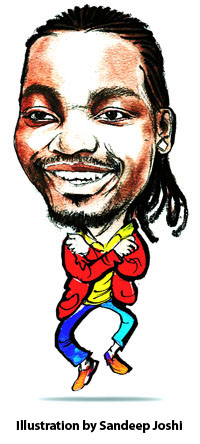 Chris Gayle is a party animal — Twenty20 cricket is a party. The two are made for each other. Unsurprisingly, after West Indies won the Twenty20 World Cup in Sri Lanka last Sunday, Gayle was the most animated, rowdy of the celebrating party, playing prince and clown, dancing Gangnam-style, copying sprinter Usain Bolt's post-victory push-ups. This despite a most curious innings he had played in the final, scoring three runs off 16 balls, leaving West Indies at the edge of a precipice at 14/2 in 5.5 overs.
If West Indies had lost, Gayle's three runs would have become a millstone on his chest, leading to suspicion, debate and innuendo. For how the heck can anyone — let alone Chris Gayle, who makes runs at the rate of 145 every 100 balls in T20 Internationals — score just three runs off 16 balls in Twenty20 cricket? Ironically, Gayle's fair name was saved due to the efforts of Marlon Samuels, a man who was once banned for two years for consorting with the cricket's underworld, the bookies. Samuels, a gifted batsman who is now 31 and will never realise his great potential, and his captain Darren Sammy took their team to a score that proved too much for the Sri Lankans.
Mere shadows
Sammy, like the greatest West Indians of the past, plays his cricket with a smile and an amateur's abandon. He's a nice man, but by no stretch of imagination could he be called a leader of genius. But in these difficult times, when their cricket board and players are in constant strife, when West Indian players are but shadows of the men who came before them, Sammy will do.
So would the Twenty20 World Cup win, though it must not be likened to their past victories. It makes for a fine story, of courage and hope and a resurgence, but it also is a story most untrue. It's not the same World Cup they won 33 years ago — heck, it's hardly the same world, and most certainly not the same sport. In four Twenty20 World Cups, we've had four different winners. We've had six different finalists, out of a maximum possible of eight. Clearly, Twenty20 cricket evens up the field. Its brevity razes the wall between the pedestrian and the great. It makes cricket more democratic — in the abbreviated format, an average player can compete with a great player.
"Now everyone can hit sixers. The boundaries are not that big and with better bats, everyone has a chance to clear the boundary," Gayle told this correspondent once.
In academics, the best students want the question paper to be very tough, because that's the only way they can be separated from the duffers. Twenty20 punishes the geniuses by yoking them with the commonplace.
Not that Gayle isn't a genius — he's a genius of the highest order, with amazing hand-eye coordination, ability to hit the ball with great power and timing. He's also capable of playing very long innings, as his two triple centuries in Test cricket show. He's brave iconoclastic, for long in conflict with figures of authority, first with the senior cricketers when he came in, then with West Indies cricket officials.
No love lost for Test cricket
Gayle, along with Kevin Pietersen, is also the best rebuttal to the fond, naive notion that athletes are "playing for the nation". In 2009, in an amazing interview with the Guardian newspaper, Gayle said for all he cared, Test cricket can go to a corner and die. "I wouldn't be so sad if Test cricket died out," he said. Incidentally, in the recording of the interview, Gayle seems a bit tipsy and at one point, seems to be flirting with the female reporter. Drunk or not, Gayle did opt to play for the Bangalore IPL team rather than for West Indies after that, though he then opted to play for West Indies rather than Somerset last year. Twenty20 cricket, which has lesser effort put in, and has greater toleration of failure, is attractive to the laidback.
Gayle, wearer of gold and fluorescent shades and clothing, is laidback, often called the coolest man in cricket.
In Twenty20, the sponsors are focusing more on monetising cricketers at events than performance, and a party atmosphere prevails — three women were arrested from Gayle's room in Sri Lanka. Before the final, a West Indian player, with a laugh, told a journalist their strategy against Sri Lanka: "We've got five girls coming up tonight."
Making big bucks from IPL
And then there's the money. Gayle has earned more from the IPL than he would have earned in two lifetimes playing for West Indies. It's possible to sympathise with Gayle — the West Indies Cricket Board doesn't pay much, and he once had to give up a personal sponsorship deal because the WICB had signed up a deal with a rival telecom company. And at 33, the road ahead in his career is shorter than the one already travelled. He'd better look after his own interests because no one else will.
And it's not that the 'real' great West Indians of the previous generation didn't choose money over pride. The recent, acclaimed documentary "Fire in Babylon" charts and analyses the rise of the Black power in world cricket in the 1970s-80s; how men from the Caribbean islands channeled the anger of the colonised and the enslaved into ferocious cricket. Yet, most of them also chose to abandon their beloved black team to go to Australia and play private cricket for a white man, Kerry Packer. Some went and played even in the apartheid era South Africa. When American billionaire Allen Stanford — subsequently jailed for 110 years for a massive fraud in the US — set up his Twenty20 cricket league, players no less than Viv Richards and Garry Sobers walked in his wake. That's the power of money.
And Gayle too is flesh and blood. The excellence of sportspersons makes us forget that, makes us invest notions of nobleness and patriotism into their simple act of hitting a ball. For all his amazing powers, Gayle remains human. Sammy, Samuels and the others are much, much more human. They've won the Twenty20 World Cup, but it's a Cup everyone will win. The one good it can do is inspire young people in the West Indies to play the game.