'Most Indian girls justify wife-beating'
Aditi Tandon talks to Frederika Meijer UNFPA India Representative
We can't continue to deprive young boys and girls of the knowledge of their bodies. They will get that information anyway and when they do, they are at the risk of misleading information.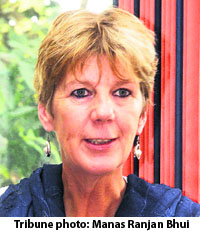 As India Representative for the United Nations Population Fund (UNFPA), Frederika Meijer is closely engaged with the government on policies that impact maternal and child health, family planning, gender justice and well being of older persons.
Since assuming charge in May 2011, Meijer has been monitoring India's progress on the crucial UN Millennium Development Goals (MDGs) of reduction in maternal and infant mortality, helping the Ministry of Health identify gaps and bridge them. Excerpts:
What are the challenges for India, which will house 315 million 60-plus people by 2050?
Just as all things fade, so would India's youth dividend. Between 2000 and 2050, the overall population of the country is anticipated to grow by 60 per cent, but the population of the elderly will grow by 360 per cent and the number of older women will exceed the number of older men by 18.4 million, which adds up to the population of Mumbai and Ahmadabad put together for 2011. Given this, the government must prepare ahead by putting in place a minimum income security net, universalising social and widow pensions and raising awareness about the national old age pension, widow pension and health insurance schemes.
What is the global experience with productive engagement of ageing populations?
More and more countries now realise the potential that the older workforce represents. In the more developed regions, particularly Europe, the response to ageing has been to raise retirement age and encourage the elderly to continue working. Contrary to popular belief, an increasing number of the old are helping their families financially. For instance, 52 per cent older parents in India help their children monetarily, as do 55 per cent in Thailand and 67 per cent in the Philippines.
Do we have India specific evidence for policy-making on ageing?
We have evidence that if young women become economically independent, they are in a far better position to support their parents than men. Worldwide, traditional values of sons taking care of parents are declining. But we see a heartening trend, where boys are migrating, leaving their parents alone, and girls are stepping in to support. In India, too, our survey in seven major states has thrown up anecdotal evidence to this effect. This is one more reason why India should invest more in girls' education.
Can India meet the MDG on maternal mortality?
Over the past decade, India has moved well on maternal mortality MDG, which is to reach 109 maternal deaths per 1 lakh live births by 2015. Today we are at 212. Some states have achieved the goal but there are pockets where desired levels have not been achieved. Even today, 209 pregnant women die every day in India. That is eight every hour, which is too much. The government must invest in ANMs to help them acquire midwifery skills, considering India doesn't have a separate cadre of midwives. Emergency obstetric care is another area for attention.
Focus on family planning as a tool to reduce maternal mortality remains low.
That's right. India's family planning programme is heavily dependent on sterilisations. The focus must shift to spacing. About 24 per cent girls between 15 and 19 years have already begun childbearing as per national data. Evidence, however, shows that chances of maternal mortality are much lower if a woman delays her first child until after 20 years of age. By then she is mature and better fed. We need to inform younger women of the modern methods of family planning like oral pills, condoms. Our focus has to be adolescents.
Child marriage is also fuelling high MMR. Laws don't seem to be helping.
A law is only a reflection of what the community wants. To prevent child marriages, we must first ensure mandatory birth registration. Besides, we need to sensitise girls. As many as 54 per cent girls in India justify wife-beating. That's why we want to focus firmly on adolescents in our upcoming India Programme. We plan to take life skills education to schools and work with Industrial Training Institutes to help young girls and boys with negotiation skills and behaviour at workplace to address attitudes towards women.
Life skills education is a contentious issue. Most states oppose it in school settings.
We can't continue to deprive young boys and girls of the knowledge of their bodies. They will get that information anyway and when they do, they are at the risk of misleading information. There are many myths the young harbour, for instance the first intercourse can't lead to a pregnancy or that youngsters can't contract HIV. Adolescence education only prepares the young for risks of life.
Gender disparity is another concern and sex ratios are constantly declining.
Decline in fertility rates, coupled with traditional mindsets and availability of modern technologies is fuelling the preference for sons in India. Sex selection is no more an urban phenomenon. It is shifting to rural areas. We have the anti-sex selection law but that will help only when mindsets change. We need to work with the panchayats on this issue, especially in Punjab and Haryana, where we are seeing a marriage squeeze now, with older men marrying women much younger than them or brothers sharing one wife.