Arvind Kejriwal Vs Robert Vadra
Activist-turned-politician Arvind Kejriwal has set into motion a blitzkrieg that is threatening to shake the foundations of the Congress. He has put UPA chairperson Sonia Gandhi's son-in-law Robert Vadra, the Haryana Government and DLF, one of the country's biggest realty firms, on the backfoot for alleged land dealings benefiting Vadra. The government and DLF have trashed the allegations, claiming no favours were extended. The Tribune tracks the details of the projects and the claims of the parties involved to put the issue in perspective.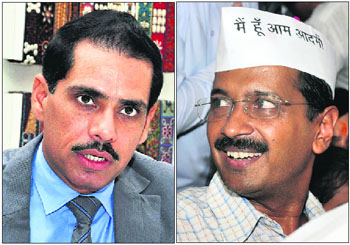 THE COMBATANTS: Charges are flying thick and fast between Robert Vadra (left) and Arvind Kejriwal, including those on a golf course site in Gurgaon (below).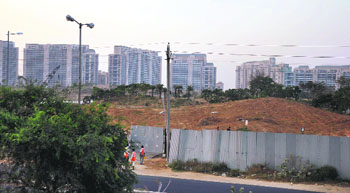 Charge 1: Manesar Land Acquisition Deal
Kejriwal's case
Acquisition scrapped to benefit DLF
Land acquisition notices were issued in Manesar by the Haryana Government, reportedly offering Rs 12 lakh per acre. Some small companies, alleged to be the fronts of DLF, started approaching farmers with an offer of Rs 20 lakh an acre. Many farmers sold their land. When a few farmers were left, the government issued a notice under Section 9 for the final notice of acquisition and award, which was fixed for August 26, 2007. Once all the land came in the possession of these companies at cheap prices, the government, just two days before the last day of award, cancelled the acquisition proceedings and subsequently, issued licenses in favour of DLF for a major part of this land for development purposes.
Haryana defence
Not true, claims govt
TC Gupta, Director-General, town and country planning, claimed that no land proceedings were cancelled to benefit DLF.
DLF claim
DLF acquired development rights much later
Neither DLF nor any of its companies purchased any land in the residential sectors of Manesar. Acquisition proceedings were withdrawn by the Haryana Government on August 24, 2007, whereas DLF acquired development rights much later from other developers to develop two licensed group housing projects on April 11, 2008.


In a nutshell
The charges

Land acquisition scrapped at Manesar. Subsequently, licenses issued in favour of DLF

Unsecured loan worth Rs 5 crore given to Robert Vadra; no interest charged against advance n Vadra bought luxury apartments, priced at Rs 5 crore each, but balance sheet says seven flats purchased for Rs 5.232 crore

Financial bids of DLF rivals Country Heights and Unitech not even opened

30 acres meant for hospital given to DLF to set up SEZ

Development plan changed to facilitate enhanced FAR for DLF


The defence

No land proceedings were cancelled to benefit DLF

Acquisition proceedings withdrawn in 2007 while DLF acquired development rights in 2008

No unsecured loans given to Vadra or his companies; Rs 65 crore given as business advance for purchase of land as per industry practice

Rs 11.90 crore paid for apartment at Aralias

Only DLF met bid criteria; secured project on own merits

East India Hotels allowed to sell land to DLF as per law; matter sub-judice

No change in density in respect of DLF Phase-V; FAR remains unchanged
Charge 2: Unsecured loan to Vadra
Kejriwal's case
No interest charged against advance
An entry in the 2009-10 balance sheet of Real Earth Estates Private Limited (Robert Vadra group company) mentions "loan from DLF Limited — Rs 5 crore". This was declared as an unsecured loan in its return. In the same year, Rs 50 crore was given by DLF to Sky Light Hospitality Private Limited (SLH), another Vadra company.
As per DLF, SLH sold its land at Manesar to DLF for Rs 58 crore and Rs 50 crore was paid as advance to SLH. The Manesar land was acquired by SLH just a year back for Rs 15.38 crore. How did the price of this land soar to Rs 58 crore? DLF claims it made an advance payment of Rs 50 crore and took possession of this land in 2008-09. However, the balance sheet for the year ending March 31, 2011, shows that the advance made by DLF and the land are still in possession of SLH. Is it a normal business practice to give an advance of 90 per cent of the amount of transaction and let it remain with the seller for more than two years? Can the advance remain interest free? SLH used this advance to purchase 50 per cent equity in DLF hotel.
SLH received another Rs 10 crore from DLF as "advance from DLF Limited (land account)". This is also interest free. The money was received by SLH in 2008-09 and remained with it for over two years.
DLF advanced another loan of Rs 15 crore in 2008-09 to SLH. DLF claims this was meant as an advance for a property in Faridabad in which some legal problems were discovered later. After using that money for about a year, SLH returned it to DLF without any interest.
DLF claim
Advance for land given as per law
DLF has given no unsecured loans to Vadra or any of his companies. However, an amount of Rs 65 crore was given as business advance for the purchase of land as per standard industry practice. SLH approached DLF in 2008-09 to sell land measuring about 3.5 acres, off National Highway-8 at Sikohpur (Gurgaon). The letter of intent (LoI) to develop it as a commercial complex was received from the Haryana Government in March 2008.
DLF agreed to buy the land for Rs 58 crore and possession was taken in the financial year 2008-09. A sum of Rs 50 crore was given as advance in instalments against the purchase consideration.
In the financial year 2008-09, SLH also offered it an opportunity to purchase a large land parcel in Faridabad and DLF agreed to advance Rs 15 crore in instalments. Due to certain legal infirmities, DLF decided against the purchase. SLH refunded the advance of Rs 15 crore.
Charge 3: ARALIAS, MAGNOLIAS LUXURY APARTMENTS
Kejriwal's case
Vadra paid far less for more
Aralias: In the balance sheet of Sky Light Realty (SLR) Private Limited for the year 2009-10, a luxury apartment in DLF's Aralias in Gurgaon is shown to have been purchased for Rs 89.41 lakh. However, in next year's balance sheet, there is an increase of Rs 8.57 crore in the value of the property. How much was this property purchased for and when? How is it that the value of Aralias is shown at Rs 89.41 lakh in 2009-10 and a whopping Rs 10.4 crore (including furniture) in 2010-11?
Magnolias: DLF has said Magnolias apartments were sold at Rs 10,000 per square foot (PSF) to Sky Light Group. At this rate, the cost of each apartment (Vadra bought seven) comes to Rs 5 crore. But in the balance sheet for the year 2009-10 for SLR Private Limited, it is clearly mentioned in current assets — "DLF Limited seven flats Magnolias — Rs 5.232 crore". Did Vadra file a wrong balance sheet with the Registrar of Companies?
DLF claim
Amount of Rs 11.90 crore was paid
Vadra purchased an apartment in Aralias in September 2008 at the prevalent market price of Rs 12,000 PSF. The total purchase amount of Rs 11.90 crore was paid by Vadra. The alleged figure of Rs 89 lakh as total purchase consideration is incorrect. The Skylight group had invested in Magnolias apartments at a price of Rs 10,000 PSF in March 2008. The allegation that seven apartments were sold for Rs 5.2 crore is baseless.
Vadraspeak
'Utterly false'
Vadra has said all charges made against him are "utterly false, entirely baseless and defamatory". "I am saddened by the attempt of Arvind Kejriwal and Prashant Bhushan to deliberately misrepresent numbers contained in my financial statements, manufacture lies and malign my family in order to gain cheap publicity for themselves and for the launch of their political party," Vadra said in a statement.
Charge 4: Recreation village, golf course
Kejriwal's case
Bidding process was manipulated
International bids were invited for the project spread over nearly 350 acres in Wazirabad, Gurgaon. DLF, Country Heights and Unitech applied for the project. Bids of Unitech and Country Heights were rejected even before being opened on the pretext that they did not have any experience in constructing and maintaining golf courses. This condition was introduced at the time of evaluating technical bids. This was done to reject other parties and grant the contract to DLF.
Out of 350 acres, 75.98 acres belonged to the Haryana Urban Development Authority (HUDA) and 275 acres to the Haryana State Industrial and Infrastructure Development Corporation (HSIIDC), which is meant to encourage industry in Haryana. HUDA uses its land for residential purposes, but in this case both authorities were expected to transfer the land to DLF.
Besides, out of the 275 acres with the HSIIDC, 91.97 acres is forest land covered under the Punjab Land Preservation Act (PLPA) which cannot be used for non-forest purposes as per apex court order.
Moreover, the Haryana Government has assumed the responsibility of seeking permission from all Central and state government authorities to facilitate it for DLF. HUDA had acquired 75.98 acres from farmers for "public purposes".
Haryana defence
Only DLF was eligible
Haryana Industries Minister Randeep Surjewala said on February 7, 2003, the HSIIDC approved a proposal to develop an 18-hole golf course, conventional facilities and leisure and housing project. HUDA transferred the land acquired by it for residential purposes to the HSIIDC for the project. On August 8, 2003, and January 20, 2004, the HSIIDC issued notifications under Sections 4 and 6 to set up the project over 278 acres.
It was decided on November 11, 2004, that the HSIIDC would take clearances from the Ministry of Environment and Forests and Ministry of Defence, besides other authorities.
The government announced the award of the land on January 19, 2006.
The government consultants, IL&FS, valued the project at Rs 1,683 crore. On April 16, 2008, the HSIIDC fixed the reserve price at Rs 11,978 per square metre (Rs 1,700 crore) for auction.
In January 2009, the HSIIDC floated the project through an international competitive bidding process. Only one bid of DLF Limited was received. The project was advertised again on July 20, 2009, and bids were received from Country Heights (Malaysia), Unitech Limited and DLF. The bids of Country Heights and Unitech were rejected by the technical bid committee for failure to fulfil certain parameters. Financial bids of these companies were not opened. The companies did not claim any unfair rejection. DLF was found eligible and its bid of Rs 12,000 per square metre (Rs 1,703.16 crore) was accepted.
Surjewala claimed that the bid committee did not change any condition. The HSIIDC notifications clearly stated "public purpose" to be a recreational or leisure project. This project has been challenged by way of two PILs (2012, 2002) in the Punjab and Haryana High Court, which are pending.
DLF claim
Got contract on merit
DLF secured the project on its own merits by fulfilling the eligibility criteria through a competitive bidding process.
Charge 5: SEZ in lieu of hospital
Kejriwal's case
High Court reversed govt decision
Thirty acres of prime land in Gurgaon was meant for a hospital. Rather, the government issued notifications on December 6, 2006, and March 9, 2007, allowing DLF to use it to set up a special economic zone (SEZ). This was challenged in the Punjab and Haryana High Court. The court reversed the government decision and passed strictures against the order.
The judgment said: "The facts alone are enough to establish the nexus of DLF with the government to grab the property in question. The subsequent facts of granting necessary approvals for the setting up of SEZ, etc. was an attempt to cover the whole mala fide action of respondent no. 2 (Government of Haryana) and the facts indicate only to one conclusion i.e. there was a nexus between the government and the respondent numbers 4 and 5 (DLF) to grab the land in question and everything was facilitated to give the same a legal cover."
Robert Vadra was a majority shareholder in DLF SEZ Holdings Private Limited, which was incorporated in February 2, 2007. On October 13, 2008, M/s North India IT Parks Private Limited (Vadra group) acquired almost 50 per cent of its shareholding. In 2009, it was sold back to DLF.
Haryana defence
Private deal between two business houses
Randeep Surjewala claimed that the sale-purchase of 30 acres of private land was between East India Hotels Limited (Oberoi Group) and DLF Limited for a market consideration of Rs 124.37 crore.
Even the permission granted in 1984 and the subsequent release of land by way of a written compromise on October 13, 1997, for setting up a hospital on a part of the land (15 acres) was to a private party (East India Hotels).
The agreement for the sale of this land by East India Hotels Limited to DLF took place on February 21, 2005, during the tenure of the INLD-BJP government. However, on an application by DLF Limited and East India Hotels Limited, permission to purchase and sell was granted by the present Congress government on April 28, 2006.
The order of the High Court was stayed by the Supreme Court on June 20, 2011.
DLF claim
Supreme Court stayed order
In DLF SEZ Holdings Private Limited, 50 per cent of shareholding was acquired by M/s North India IT Parks Private Limited in October 2008 at the face value of Rs 2.5 lakh. The shareholding was bought back from North India IT Parks in September 2009 at the face value of Rs 2.5 lakh. Vadra had no interest in SEZs of DLF in any manner. The High Court order has been stayed by the Supreme Court.
Charge 6: Increased floor area ratio in Ph V
Kejriwal's case
Development plan changed for DLF
The Gurgaon-Manesar Urban Complex Plan-2025 is being changed with Plan 2031. As per the new plan, the population density has been increased from 250 to 625 persons per hectare in DLF's Phase V. This is a substantial increase in the floor area ratio (FAR) for DLF.
Haryana defence
Population density remains the same
There is no change in density in respect of DLF Phase-V in Sectors 42, 43, 53 and 54. In the 2025 Plan , the density of population of all sectors of Gurgaon was depicted in terms of 'persons per acre' (PPA), which has now been shown as 'persons per hectare' (PPH) in the draft developmental plan of 2031.Accordingly, 250 persons per acre would come to 625 persons per hectare.
DLF claim
No benefit accrued to DLF
The project was approved in 1995. In subsequent revisions of the Master Plan, no changes in FAR or density have taken place. Hence, no benefit has accrued to DLF.