Cong banks on stalwarts' wives and sons in Himachal


Shimla, October 13
True to the culture of "dynastic rule" that runs in the Congress, the party has fielded 15 candidates who are either wives or sons of senior politicians as compared to a mere three in the BJP.
Bus fare up 20 per cent in Punjab
Patiala, October 13
The Punjab Government has increased bus fare in the state by around 20 per cent. From today, the commuters would have to shell out 13 paise more for every kilometre. The hike follows recent increase in diesel prices by Rs 5.
Police arrests rape accused as school throws out victim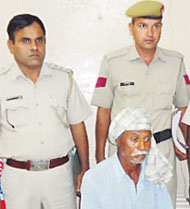 Ratia (Fatehabad), October 13
A 60-year-old vegetable vendor was arrested today for repeatedly raping a 13-year-old schoolgirl for five months at Khai village in Ratia subdivision of Fatehabad. Showing gross insensitivity, the authorities of the Government Middle School, Khai, where the victim studied in class VI, expelled the victim.
Sohan Lal (60), accused of raping a 13-year-old girl.