Daily monitoring of mid-day meal scheme by year end
Amritsar, October 14
Thanks to the information technology (IT) revolution, the Ministry of Human Resource Development (HRD) is all set to introduce a daily monitoring system (DMS) of the mid-day meal scheme before the end of this year.
Two ASIs among five traffic policemen suspended
Amritsar, October 14
Five traffic police personnel, including two Assistant Sub-Inspectors, have been suspended following complaints of misconduct and corruption against them.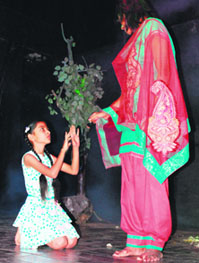 Fighting for girl child
Acting against female foeticide in their own distinctive style
Amritsar, October 14
Call it a continuous effort against incessant social plague called female foeticide, the young volunteers of Punjabi Samvaad staged the play 'Khuh Bolda Hai', which has now attained a cult status for those fighting against the social menace, at Punjab Natshala. With the play running in its fifth year through the cultural NGO, Khuh Bolda Hai made its high-profile audiences self-introspect and stand united for the cause of saving the girl child. The play, written by Jyoti Bawa, highlighted the deep rooted social pressures that lead to female foeticide. It especially pointed finger at the 'dubious' role of the men folk.
A scene from the play Khuh Bolda hai. Photo: Vishal Kumar



Wishing them with colours: Aritist Rubel gives finishing touches to a painting of actors Saif Ali Khan and Kareena Kapoor, who are getting married, in Amritsar on Sunday. Photo: Vishal Kumar

Car gutted in fire, Fiat told to pay up
Amritsar, October 14
The District Consumer Disputes Redressal Forum has told a car manufacturer, Fiat, and a dealer to pay a compensation of Rs 50,000 to a local resident after her car was gutted in fire because of a technical snag.
At 61, commission agent shifts gear to become marathon runner
Amritsar, October 14
Brimming with confidence at the age of 61, Jarnail Singh is a symbol of emulation for the young and the old. Following his passion for walking and running, Jarnail Singh, who worked as a commission agent at Bhagtanwala grain market, chose to run marathons. Revealing the secret of his success, he said his simple lifestyle and eating habit has made it possible for him to run long distances at this age.
14 booked for ransacking shop, causing injuries
Amritsar, October 14
As many as 14 persons have been booked by the Sadar police for allegedly ransacking a mobile repair shop and injuring its owner. In his complaint to the police, Rajinder Kumar, a resident of Ganda Singh Wala, Majitha road, said he was sitting in his cousin's mobile repair shop when the accused persons armed with swords and sticks attacked them and ransacked the whole shop.
Manpreet Kaur wins 100-m sprint in CBSE athletic meet
Amritsar, October 14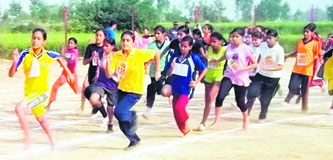 Manpreet Kaur of Doaba Public School came first in the girl's u-19 100-m sprint on the second day of the three-day CBSE Cluster XVI Athletic Meet at Sidana International School today. Navneet Kaur from Cambridge School and Sandhya from SBB School, Khiala village, stood second and third, respectively.
Students participate in athletic events during the CBSE athletic meet at Sidana International School in Amritsar on Sunday. Tribune photos

Two held selling LPG cylinders on black market
Amritsar, October 14
The city police has arrested two persons in connection with black marketing of LPG cylinders. Those arrested are identified as Kali of Kirpal Colony and Satgur of Dashmesh Avenue. A case under Section 420 of the IPC and Section 7 of the Essential Commodities Act has been registered against them.
60 GNDU toppers felicitated
Amritsar, October 14
Sixty toppers from various educational courses of Guru Nanak Dev University were felicitated by RS Bawa, Vice Chancellor of Chandigarh University, during a programme organised by the Rotarian Ajit Singh Freedom Memorial Society at Sri Guru Harkrishan Senior Secondary School today.
Class four staff urge govt to meet demands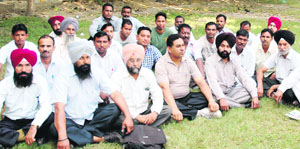 Amritsar, October 14
Members of the Democratic Class Four Employees Front, Punjab, urged the state government to meet their long-pending demands during a meeting at Ram Bagh today.
Members of the Democratic Class Four Employees Front, Punjab, hold a meeting at Ram Bagh in Amritsar on Sunday. Photo: Vishal Kumar

Lok adalat on Dec 15
Amritsar, October 14
A mega lok adalat would be organised in Amritsar and Tarn Taran districts on December 15, said District and Sessions Judge HS Madaan. District Legal Services Authority's secretary Arun Aggarwal said lok adalats would be simultaneously organised at Baba Bakala, Ajnala and Patti sub-divisions.
Woman found murdered
Amritsar, October 14
An unidentified woman in her thirties was found murdered at a secluded place in Kot Mit Singh area here today. Her face was brutally smashed to hide her identity.