Sewerage water enters houses at Guru Gobind Singh Nagar
Amritsar, October 4

"Development comes at a price" is an old and somewhat acceptable adage, but the price being paid by the residents of Guru Gobind Singh Nagar of Ward 9 is too "heavy". The residents have been forced to sleep outside their homes for the past 10 days. Some have shifted to rented accommodation at other localities after locking their houses. Reason: The multi-crore sewerage revamp plan is being implemented in the area, but in the absence of any proper outlet the sewage has now overflowed and entered their homes.

Solid waste management plant top on MC agenda
Amritsar, October 4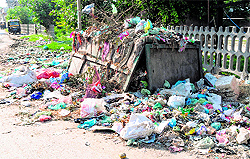 The Municipal Solid Waste Management system tops the agenda of the new House meeting which is likely to take place in a week's time. The project, which was proposed in 2007 and was to be implemented in 2008, has been hanging fire for the past four years. Commissioner Dharampal Gupta refrained from commenting on the status of proposed solid waste management plant at Bhaktanwala as the matter was pending in the Punjab and Haryana High Court, which has fixed October 10 as next date of hearing.
Man succumbs to injuries; murder case registered
Amritsar, October 4
Suresh Kumar, resident of Khuh Korian in the walled city, who was critically injured by several persons on October 1, succumbed to his injuries in a private hospital.
Villager held for illegal mining of sand
Amritsar, October 4
The Ajnala police has arrested Mukhtar Singh, resident of Sarangdev Chhina village, for illegal mining of sand from the banks of the Ravi passing through the village. His accomplices, however, managed to escape.
Hoteliers hold meeting with PPCB officials
Amritsar, October 4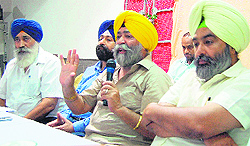 Alarmed with the notices issued by the Punjab Pollution Control Board (PPCB) to hotels, lodges and guest houses of the holy city to install sewage treatment plants (STP) and appropriate air pollution control devices, all hotel associations today came together and held a meeting with senior officials of the PPCB and submitted a memorandum of their demands to its Superintendent Engineer GS Majithia.

Members of various hotel associations hold a meeting with officials of the Punjab Pollution Control Board in Amritsar on Thursday. Photo: Sameer Sehgal

GURU NANaK DEV HOSpital
Class IV workers await salaries
Amritsar, October 4
As many as 100 Class IV employees engaged in cleaning jobs at Guru Nanak Dev Hospital and its associated institutions have not received their salaries since past nine months.
Govt's move to hike AC rail fares to affect common man
Amritsar, October 4
Already facing problems due to high inflation, residents 0of the city are not amused with the Union Government's decision of hike in AC rail fares. The government has levied service taxes on AC classes and freight and auxiliary services of the Indian Railways.
Air Marshal visits Rajasansi station
Amritsar, October 4
Air Marshal Arup Raha, AVSM VM, Air Officer Commanding-in-Chief, Western Air Command IAF, visited Air Force Station Rajasansi today. He was accompanied by Lily Raha, president Air Force Wives Welfare Association (Regional).
Group song contest held
Amritsar, October 4
Bharat Vikas Parishad Amritsar Central organised a National Group Song Competition at Police DAV public School today. It was inaugurated by Additional Commissioner MC Pardeep Sabrwal.
Conference on diarrhoeal disease tomorrow
Amritsar, October 4
The department of microbiology at Government Medical College here is going to organise a national conference on diarrhoeal disease on Saturday. Experts of the field from various parts of the country are going to participate in the conference, which will be inaugurated by Cabinet Minister Chunni Lal Bhagat.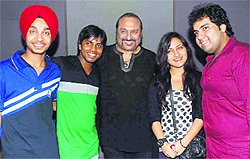 City lads record their first album
Amritsar, October 4
Indian Idol 6 winner Vipul Mehta recorded his first album. The album will also feature other Indian Idol contestants Davendra Pal Singh, Amit Kumar and Poorvi Koutish.



(From left) Indian Idol 6 contestants, Davendra Pal Singh, Amit Kumar, Poorvi Koutish, Vipul Mehta, with Leslie Lewis (Centre) for recording songs of their first pop album. A Tribune photograph