Curb smoking, drinking to keep heart problems at bay: Expert
Tribune News Service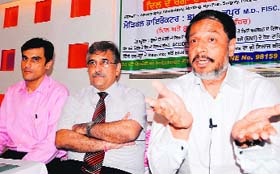 Cardiac surgeon Dr HS Pannu (right) addresses mediapersons in Amritsar on Saturday. Photo: vishal kumar
Amritsar, September 29
Modern lifestyle and faulty eating habits are the prominent causes of heart diseases among the city residents, said Dr Adarsh Kumar, professor and Head, Department of Cardiology at Government Medical College, here.
"Amritsaris are at a greater risk of heart ailments because of gastronomic habits involving rich fat diet," said Dr Adarsh.
He said as costly interventional treatments were within the range of only five per cent population, the prevention was surely better than cure.
The cardiology expert said: "Smoking and drinking should be curbed to keep heart problems at bay. Proper diet control and regulating body weight are also necessary. In India, almost 20 per cent to 30 per cent of heart attacks occur below the age of 40".
Government Medical College has a state-of-the-art ICU ward form cardiac patients. "A cardiac catheterisation laboratory for doing all cardiac interventions will be shortly installed at the hospital, which will be a boon for the patients," he said.
A free cardiac check-up camp was organised at the department on the occasion of World Health Day today, during which around 250 patients availed the facility. They were provided free medicines and fruits during the camp.
Dr Adarsh also delivered a lecture to the patients about the dos and don'ts to avoid heart problems.
Dr HS Rissam, a renowned cardiologist and a member of the Medical Council of India, also visited the camp.
The District Health Department also organised an awareness campaign at Company Bagh here to educate people about the causes and cures of heart ailments.
Fortis Escorts Hospital organised poster-making and elocution competitions for schoolchildren to make them aware of heart ailments.
EMC Super Speciality Hospital organised a walk-a-mile campaign at Company Bagh, which was flagged off by Mayor Bakshi Ram Arora.
Students from SBS College of Nursing, SGRD College of Nursing, NRI College of Nursing, United College of Nursing, Khalsa College of Nursing, Amritsar College of Nursing, Guru Amardas College of Nursing, GG Singh College of Nursing and DAV Police Public School participated in the event.
At a press conference held today, Carewell Super Speciality Hospital announced to initiate bypass surgery and heart valve repair, said Dr HS Pannu, claiming that the hospital was the only institution in the region with the facility to repair valves.
Pannu said: "Heart diseases are increasing everyday. Therefore, Carewell is stepping ahead in providing valve repair, along with bypass surgery and valve replacement".
He said 10 per cent to 15 per cent people with heart ailments were the city dwellers. He added that the number of heart ailments in the rural areas was only 5 per cent to 8 per cent.