Karnataka invites Punjabis to experience its exotic beauty
Neha Saini
Tribune News service
Amritsar, September 21
For earnest Conde Nest followers around the globe, Kerala is the only definition of exotic tourism Down South in India. But little do most travel buffs know that India's hi-tech state of Karnataka has many surprises hidden, for the global tourist.
Rated among the top four tourist destinations in India, blessed with a variety of destinations and experiences, Karnataka beckons travellers to keep discovering its many facets. The undisputed leader in information technology, biotech and a host of other industries that has helped India onto the global stage, is now one of the most preferred destinations for discerning travellers.
Inviting Punjabis to travel and experience an exotic holiday in Karnataka, the Karnataka tourism officials led by G Latha Krishna Rao, Principal Secretary, Department of Tourism, Government of Karnataka, took the Amritsaris on a virtual tour of various tourist destinations of the state. A delegation comprising senior tourism officials came to the holy city to promote tourism inflow in Karnataka.
"In the last 10 years, tourist arrivals have gone up from 2.4 crore to a staggering 8.46 crore. By June, already 56 % (4.64 cr) of last year's arrivals was witnessed in Karnataka. This is a growth of nearly 14 %. And it is attributed to the domestic traveller," shared G Sathyavathi.
The state destinations that are popular are Hampi, Belur-Halebeedu, Bijapur, Badami, Pattadakal, and the eco tourism chain, jungle lodges & resorts. India's largest chain of eco and wildlife resorts has opened up new properties at Bidar and Jog, apart from the luxurious Mayura chain of hotels run by the tourism department.
The state also boasts of a number of heritage sites, as it is popularly called The Cradle of Stone Architecture. The two most popular world heritage sites in Hampi and Pattadakal, exquisite temples of Belur, Halebeedu and Somnathpur and stately forts, domes, minarets, are reminders of what the state has to offer to curious travellers. "We have also developed the concept of wildlife tourism or adventure tourism which offers forest excursions in the Western Ghats, now declared a world heritage site, and trekking trails to the tea and coffee plantations," shared Sathyavathi. The mountain ranges also helps Karnataka abound in a torrent of sparkling waterfalls. Two of them – Shivanasamudra Falls and Jog Falls are in the World Waterfall Database's list of the top 50 waterfalls in the world. 320 km of pristine coastline has for its adornment, the great Western Ghats as its backdrop. The coastline is dotted with un-spoilt beaches and scores of temples for the thrill seekers.
The state Tourism Department also offers luxury on wheels with The Golden Chariot. South India's only luxury train with finest facilities on board promises a memorable journey. On its voyage, The Golden Chariot links some of South India's greatest destinations trundling through spectacular locales, recapturing the romance of a by-gone era making your sojourn an unforgettable one. Well, not to forget the state's renowned sandalwood handicrafts and coastal cuisine.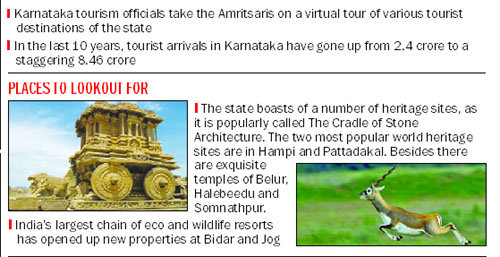 Places to lookout for
* The state boasts of a number of heritage sites, as it is popularly called The Cradle of Stone Architecture. The two most popular world heritage sites are in Hampi and Pattadakal. Besides there are exquisite temples of Belur, Halebeedu and Somnathpur.
* India's largest chain of eco and wildlife resorts has opened up new properties at Bidar and Jog