Ex-member questions working of Durgiana committee
GS Paul
Tribune News Service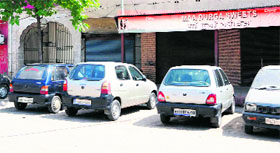 Shops near Parshuram Mandir which have been kept out of the proposed beautification project. photo: vishal kumar
Amritsar, September 30
Questioning the working of the Durgiana Mandir Committee, former member Sushil Kumar today alleged that some office-bearers of the committee had given false assurances to displaced tenants or owners of properties, which were acquired by the Land Acquisition Department for the proposed Durgiana Complex Beautification Project.
"Till date, not a single tenant or the owner has been given compensation in lieu of their properties even after one month. Some committee members in connivance with government officials have been giving them false assurances," he said.
Pointing out their "vested interests", Sushil Kumar alleged that the committee members deliberately prevented the commercial shops, adjoining Parshuram Mandir within the complex, from being demolished.
"It is irony that a school which used to provide free education to over 200 children was demolished to pave way for the beautification project, but three shops located alongside Parshuram Mandir enjoyed immunity as the property belonged to the kin of the committee members," he said.
He also alleged that the committee had refused to shoulder its responsibility by stating that the proposed beautification project was a government initiative and that they had nothing to do with it, whereas, the secretary of the committee is a member of the panel constituted by the administration for executing this project.
Durgiana Committee members denied the allegations.
Ramesh Sharma, secretary of the Durgiana committee said, "First of all, Sushil Kumar has been debarred from the committee membership due to his behaviour. It is absolutely true that the Durgiana committee has nothing to do with the beautification project as it was a government's own venture. The decision on any part of the complex to be included or excluded was decided by the Improvement Trust which has designed the plan. The shops located adjacent to Parshuram Mandir have been excluded because of the mandir itself," he said.
About the involvement of committee office-bearers in the panel, Sharma clarified that after the case of evacuation got embroiled in court for over four years, a panel was formed for utilisation of compensation received under the head of Dashnami Akhara, under the tutelage of Deputy Commissioner Rajat Aggarwal only.
"The money received under this head would be utilised for erecting infrastructure for facilitating devotees, like langar hall, resting place for them etc," he said.
'Even school was razed'
Till date, not a single tenant or the owner has been given compensation in lieu of their properties even after one month. Some committee members in connivance with government officials have been giving them false assurances. It is irony that a school which used to provide free education to over 200 children was demolished to pave way for the beautification project, but three shops located alongside Parshuram Mandir enjoyed immunity as the property belonged to the kin of the committee members
— Sushil Kumar, Former Member of temple committee