Sidhu set to liven up Bigg Boss house
Neha Saini
Tribune News service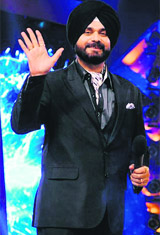 Navjot Singh Sidhu
Amritsar, October 8
The Big Boss Season 6 began with a six on Sunday night. Navjot Sidhu opened the Bigg Boss 6 innings, with an entertaining prelude given by singer Daler Mehndi. And soon after, the audience got the taste of this season's tagline "Alag Che".
The suave and colourful cricketer-turned-MP, who is known for his wacky one-liners and exciting on-screen antics, will share the house with names like actor Urvashi Dholakia, activist and another firebrand contestant Sampat Pal, actor-comedian Brijesh Vird, divorced celeb couple Delnaz Irani and Rajiv Paul and some relatively lesser-known faces from television.
After bestowing the world with his "Sidhuisms", the man with abundant supply of comments as crisp as crackers (in his own words), Navjot Sidhu is sure to ruffle up some feathers inside the Bigg Boss house.
As the show returns for another season full of fireworks, we find out the reactions of citizens to see their MP locked up in the Bigg Boss house.

Sehaj Gulati, member and activist, People for Animals, said: "I think being a seasoned politician and a senior contestant, he will act as a buffer for other inmates. Last year, the show had a lot of heated moments among inmates, so may be he will be able to defuse tension this time with his 'Sidhuisms' and bring in peace. I am not sure if he will be part of the show for long, but it will be an interesting cameo."

Ramninder Kukreja, housewife said: "Watching Navjot Sidhu under public eye 24/7 will be interesting, but I feel he won't stay much long. I don't deny his popularity on television, given his firebrand remarks, but as a responsible representative of the people of the city, he should have not opted to be part of a reality show like Big boss that has a history of stirring up controversies and bring out the worst in people."
Bhuvan Arjun, businessman, said: "I was not surprised at all watching him enter Bigg Boss. Navjot Sidhu is a complete entertainment package, he has everything required to perk up the show. His now famous witty one-liners would definitely be enjoyed and make the show interesting. He will be responsible for the TRPs this season."

Ekta Khullar, management professional, said: "The show is notorious for having volatile contestants. So, Navjot Sidhu definitely promises entertainment. We have seen Rakhi Sawant, Dolly Bindra and Akashdeep Saigal antics in previous seasons. So Navjot Sidhu brand of entertainment will be a breather."

Alice Guram, media professional, said: "He talks so much that he will probably be voted out from the house on the ground. But if he is trying to put forth the fact that politicians are good entertainment, he will definitely pull it through. I believe he is probably the most knowledgeable contestant on the show, as he knew all about the co-contestants. I fail to understand why he chose to be on this show, but then he would provide the right masala for the show."

Anand Sandesh, adventure traveller, said: "Being an active politician and an MP, I think he should have not become part of a show where he is supposed to be cut off from the outside world. Navjot Sidhu is a celebrated face, but he is also a responsible representative of the people."