PUNJAB

HARYANA

JAMMU & KASHMIR

HIMACHAL

REGIONAL BRIEFS

NATION

OPINIONS

LETTERS

BUSINESS

SPORTS

WORLD


No evasion of stamp duty in Rahul land deal: Revenue Dept
Palwal, October 25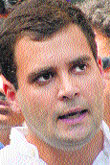 Contrary to the charge of INLD strongman and former Haryana Chief Minister Om Prakash Chautala that Congress General Secretary Rahul Gandhi evaded stamp duty with regard to purchase of land in Hassanpur village in this district, revenue officials say the latter purchased the land at a rate above the "circle" rate, and paid a commensurate amount as stamp duty.
Rahul Gandhi
Centre trying to promote small industries: NSIC
Rewari, October 25
Besides senior officials of the District Industries Centre ( DIC), nearly 50 small entrepreneurs (industrialists ) participated in a district-level seminar held under the auspices of the National Small Industries Centre (NSIC) of the Union Government here recently.
Improved facilites at DHBVN call centre in Gurgaon
Hisar, October 25
The Dakshin Haryana Bijli Vitran Nigam (DHBVN) has decided to utilise the facility of call centre at Gurgaon for improved customer services. Complaints from all over the area of DHBVN can be lodged at the call centre.
Allegations against Rahul Gandhi false: Selja
October 23, 2011
Private seed producers up in arms against govt
October 19, 2011
Government committed to promoting sports: Hooda
October 16, 2011
Sack Hooda govt immediately, says Ajay Chautala
October 12, 2011
Take UPA scams to people's court, BJP tells workers
October 9, 2011
Team Hooda under attack from all quarters
October 5, 2011
Migrant labourers' pathetic life moves tribunal jury
October 2, 2011
Hockey academy trainees unable to practise on astroturf
September 28, 2011
Foundation stone to be laid in New Year
September 25, 2011
State to make living better in villages
September 9, 2011
KMP Expressway: Many deadlines gone, work still incomplete
September 6, 2011