Plant poplars in hills, provide jobs to check migration: CM
Tribune News Service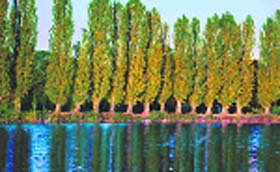 Dehradun, October 30
Uttarakhand Chief Minister Vijay Bahuguna today called for more research by scientists to plant poplars in the hills up to an altitude of 2000 m to support the livelihood of hill people, which, in turn, will help check migration from the state.
He was speaking after inaugurating the 24th session of the International Poplar Commission 2012 at the Forest Research Institute, the premier forestry institute of the country, here today. He assured all support for poplar and willow plantations as mandated by the International Poplar Commission.
The theme of the International Poplar Commission being held is "Improving Lives with Poplars and Willows." Chief Minister Bahuguna appreciated the outstanding research work being done by ICFRE in the field of forestry, and said that poplar was very popular in the state of Uttarakhand, and was supporting the livelihood of rural populace. "As the state has about 65 pern cent of its area under forests, its conservation is paramount as it is also the catchment of many rivers and glaciers. Poplar trees have helped increase the livelihood of farmers who are getting returns of about Rs 2 lakh per hectare per year. They have also helped to a great extent to bridge the gap between demand and supply, and to conserve forests," he said.
He emphasised that in the state of Uttarakhand there was a conducive environment for promoting more plywood-based industry, given the current literacy rate at 80 per cent and growth rate at 12 per cent.
He released Envis Forestry Bulletin Titled "Poplars in India" commemorating the 24th session of International Poplar Commission. Earlier, speaking on the occasion, VK Bahuguna, Director General, ICFRE, and Chancellor, FRI, and leader of the Indian delegation in the International Poplar Commission session, while welcoming the delegates, thanked Food and Agriculture Organisation of United Nations for strengthening the livelihood opportunities for the cause of farmers through the activities being undertaken by the IPC. He mentioned that the Indian forest policy, 1988, stated that the wood-based industries shall have to generate their own raw material on the farmers' land, which can be achieved by planting fast-growing short-rotation species like poplars and willows, which successfully grow in the agro forestry systems. In India about 10 lakh hectares was under poplars, which ensured livelihood to lakhs of people, ensured social and environmental services, improving soil health and mitigating climate change by sequestering carbon up to 27 tonnes per hectare. He said that to promote livelihood the short rotation crops had great potential and needed to be promoted.
He mentioned that ICFRE had successfully introduced poplars through agroforestry models in Vaishali district of Bihar, which fell outside its normal range of distribution. In this effort 6 million poplars had been planted during the past 5 years, benefiting around 12,000 farmers in one district of Bihar generating more than one million mandays, thereby improving their livelihood.
VK Bahuguna, DG, ICFRE, in the executive committee meeting advocated propagating International Farmers' Forestry Commission and expanding the role of IPC by re-designating it as International Poplar, Willow and Short Rotation Crops Commission, which will have wider acceptance. He emphasised that there was a vast scope of expanding the domain of poplars and willows to many other short rotation crops like acacia nilotica, casuarina species melia dubia and other fast-growing tree species.
Stefano Bisoffi, Chairman, International Poplar Commission, while speaking on the occasion, said that the poplars helped sustainable land use, food security, livelihood and well-being of people and the goal of IPC was not developing poplars but sharing knowledge
and experience among the member-countries, making the result accessible to the grower community.
Eduardo Mansur, Director, Forest Management Division, Food and Agriculture Organisation (FAO), while speaking on the occasion stated that IPC undertook to promote the study of the scientific, technical, social and economic aspects of poplar and willow cultivation to facilitate the exchange of ideas and material among research workers, producers and users; to arrange joint research programmes; and to stimulate the organisation of congresses and study tours. Through these activities, the IPC has had an important role in the development of national forest sectors of many poplar and willow-growing countries.
Poplars and willows account for more than 95 million hectares of natural and planted forests globally. PP Bhojvaid, Director, FRI, proposed the vote of thanks at the end of the inaugural session.
After the inaugural session the plenary session commenced in which 10 presentations from 9 countries, including India, were deliberated upon.
Sandeep Tripathi, from ICFRE, presented the case of ICFRE, taking poplars into non-traditional zone under agroforestry in Vaishali district of Bihar. Martin Weih from Sweden presented papers on ecological and environmental implications on producing biomass from marginal lands. Jim Richardson from Canada, Ian McIvor from New Zealand, Li Ming Jia of China, Joris Van Acker from Belgium, BR Thomas from Canada, Anatoly Tsarev from Russia, Silvia Cortizo from Argentina and Botman K Evgeniy from Uzbekistan deliberated in detail on varied subjects of poplars like new publication for global audience, stabilising soil and carbon storing by poplars and willows, physiological studies of poplars and effect of soil water potential and drip irrigation on poplar growth.
In the evening a cultural programme was arranged for the delegates.