No clue in kidnapping case
Bipin Bhardwaj
Tribune News Service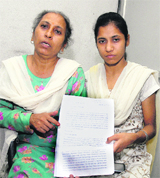 Bimla Devi, accompanied by her daughter, shows a property-related document in Jalandhar on Tuesday. Tribune Photo: Malkiat Singh
Jalandhar, October 30
A city resident, suffering from mental depression, was allegedly kidnapped by certain property dealers after fraudulently finalising a property deal from Dr Vidya Sagar Mental Hospital, Amritsar, last week.
The victim, Varinder Singh, a resident of the Garha Road area, was kidnapped by the accused from a washroom of the family care ward of the hospital on October 21, where he was under treatment.
In a complaint to the city Police Commissioner, Bimla Devi, wife of the victim, said this was not for the first time that the accused had kidnapped her husband. They had earlier also attempted to kidnap Varinder twice from the hospital since May, 2011.
She said the kidnappers, who were property dealers, had managed to register a sale deed in the name of Sewa Singh, by taking the benefit of Varinder's mental imbalance.
The disputed land, measuring 8 marlas, was located in a prime location and was worth crores of rupees, Bimla said.
She said earlier the accused forcibly entered the ward room of the hospital in May 2011 in Amritsar and bundled her husband in a car and forcibly took him away.
Though policemen from the Majitha police station reached the hospital and even rounded up the accused, later they were let off without any action, Bimla said.
They again kidnapped Varinder from the Amritsar hospital and accompanied him to Jalandhar for getting his statement recorded, but timely intervention of the SP (HQ), Jalandhar, once again foiled their bid. Varinder was then shifted to the hospital on the directions of a local court, she said.
The gang members finally kidnapped Varinder from a washroom of the hospital on October 21. Since then, there was no information about his whereabouts. Though a complaint had been lodged at the Majitha police station, Amritsar, but to no avail, she added.
The Commissioner has marked the application to the Assistance Commissioner of Police, Model Town, for further investigations.