Rwanda's Ambassador visits LPU
Tribune News Service
Jalandhar, November 2
On a special visit to Punjab and Haryana, Rwanda's Ambassador Williams Nkurunziza visited Lovely Professional University (LPU) last evening.
On reaching LPU, the Ambassador, who was accompanied by second counsellor Mucyo Rutishisha, was welcomed by LPU Vice-Chancellor Dr Ramesh Kanwar for valuable discourse.
As part of the visit, Williams Nkurunziza met more than 200 Rwandan students, who are getting education at the university under different study programmes like computer applications/information technology, computer science, business, economics, pharmacy etc.
The Ambassador also enjoyed an opportunity to visit the nine-storeyed central library, student resource centre, hostels and laboratories of the university.
He got emotional when students presented their national anthem - "Rwanda Nziza Gihugu Cyacu, Wuje imisozi, lbiyaga n' lbirunga", which means "Beautiful Rwanda, our country; adorned of hills, lakes and volcanoes". Later, he also held an interactive session with the students of his country.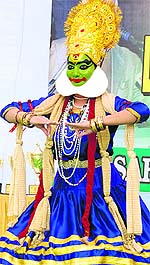 A student performs during Doaba Youth Festival at Doaba College in Jalandhar. Photo: Sarabjit Singh

Youth fests
Manpreet, a student of fashion designing from the PCM SD College for Women, has got the first prize in phulkari weaving at the Zonal and Inter-Zonal Youth Festivals organised by Guru Nanak Dev University, Amritsar, recently.
Principal Dr Kiran Arora has congratulated the student on her success.
Lecture on sleep
Dr Subimal Datta, Professor from the Department of Neuroscience, Boston University, US, delivered a lecture on "Gift of sleep: How Today's Experience Becomes Tomorrow's Memories" at the Department of Biotechnology of Lyallpur Khalsa College.
Principal Dr SK Sood welcomed the scientist. During the lecture, Dr Datta emphasised that sound sleep was a key factor that plays an important role in keeping people's health throughout life.
He said sleep was not a passive thing. It was of two types - REM (Random Eye Movement) and NREM (Non-Random Eye Movement). He mentioned that the person who has REM cycles more often come across with heart attacks.
He said if any person sleeps well between six to eight hours, his body will be more tolerant to many diseases like heart attack, blood pressure, etc.
Dr Datta said sleep was directly linked with memory. Development of good memory cells in our body is totally dependent on sleep cycles, he stressed.
Research project
Dr Arun Dev Sharma, HOD, Department of Biotechnology of Lyallpur Khalsa College, has been awarded a major research project of Rs 22 lakh from the Department of Science and Technology, Government of India, New Delhi.
Dr Sharma said after rigorous screening of applications received from all over the country, the DST has selected him for this project. The screening was based on the number of research projects handled, number of PhD/M.Sc students supervised and research publications.
Dr Sharma is working on a project by which abiotic plants can be made stress-tolerant by biotechnology means.
Dr Sharma said a lot of research was going on to discover new genes from various plants which could be used to generate water tolerant high yielding crops like wheat and rice by gene transfer through biotechnology means.
He said at present, water shortage was the major problem of the country, which could be solved by means of biotechnology.
He said he was now concentrating on the molecular aspects of some water stress induced genes in the important crops like wheat.
Faculty development
Kanya Maha Vidyalaya organised a four-day faculty development workshop to upgrade the pedagogical skills of the faculty in the age of smart boards, smart learners and smart study materials. Dr Carol Shepherd from National University, California, enlightened the faculty on the potential and possibilities of having online courses.
Vocational programme
The Rural Development and Self-Employment Training Institute (RUDSET), Cantonment Road, concluded its 174th free vocational programme for unemployed youth. Nearly 18 women attended a 30-day programme on beauty parlour management sponsored by NABARD.
VS Nayyar, director, RUDSET, said as many as 4,872 youth had taken training from the institute. Out of which, 3,050 trainees had started their own entrepreneurial works.