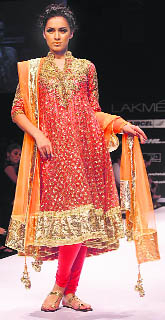 This Diwali, keep it stylish
It's about striking the right balance between the looks of a runaway bride and a plain Jane. Not that the look is difficult to achieve but you have to break certain made-up fashion rules. Beginning with the bling, it's not the definition of festive wear. Swarovski, zari work, gotta patti work are all fine but not a suffocating overdose of it. At the same time, keep simple prints, khadis, handlooms for post Diwali time. It's time to indulge, not over-indulge though. You need examples to understand it better? Here is the Diwali guide as to what will suit the occasion….Over to fashion designers who are more than happy to spell out the festive trends.






SPLASH OF ORANGE: An outfit by Preeti Kapoor

Wow weddings!
If there are three-hundred weddings happening in the city, how do you stand out amidst the already stretched out? With the set-up - a 100-year-old glitzy ranch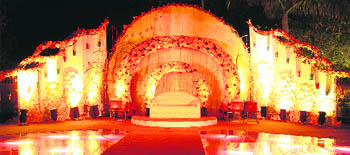 replete with wooden antique décor or large chandeliers or fairytale ambient lighting or the flowers? Or button rose bouquets, lilies of the valley, all tied up with Queen Annie's lace and purple Saffron Crocus? Or the food? 'Cider-braised pheasant and pan-roasted quail, Top Chef: Texas-style'… that's how one of the list goes!
decked up: Wedding venues at their best

The 'in' side


Rug-ged terrain
With more people choosing hardwood or tiles for their homes, wide expanses of bare floors can make an interior feel cold and unwelcoming. This is where a strategic placement of rugs can help. They help anchor a room and define it as well.
Master Chef


Mushroom meal
You think fancy looking dishes can be served in restaurants only? Think twice! For anyone can be a master chef in their own kitchen. Few vegetables chopped in a fancy manner, a dash of the right sauces and herbs sprinkled and skillful presentation could give you yummy results, visually appealing and delectable to taste. Here we have created a mini meal with mushrooms and veggies for you to make and then bask in the compliments for being the chef avant- garde!
star track
Getting to know Gauhar Khan
Gauhar Khan may not be a full-time actress but she has wowed us in movies like Rocket Singh and Ishaqzaade. She stood out in significant roles. Get to know more about her.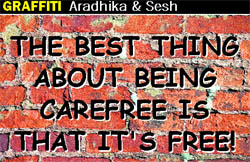 A hit & MISS


Gauri is the boss at home: Shahrukh Khan


Fatherhood is euphoric: Robbie


Awesome threesome


On a roll


Walk the talk


Blessing in disguise


On a roll
chatter box
It's a gimmick!
A casual comment from dancing queen Sambhavna Seth has got starlet Sara Khan's feathers all ruffled!



New arrival


Tracking love


Mystery unearthed


It's showtime


Worth the pain


We are 100!


Happiness abound


On Ashmit's agenda