This Diwali, keep it stylish
Festive wear requires a lot of factors in place. We tell you how to look your best this time
Ashima Batish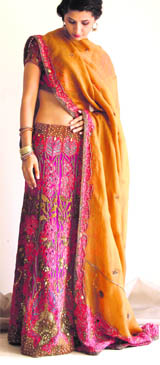 STRAIGHT AWAY: A Rahul & Gunjan's lehenga
It's about striking the right balance between the looks of a runaway bride and a plain Jane. Not that the look is difficult to achieve but you have to break certain made-up fashion rules. Beginning with the bling, it's not the definition of festive wear. Swarovski, zari work, gotta patti work are all fine but not a suffocating overdose of it. At the same time, keep simple prints, khadis, handlooms for post Diwali time. It's time to indulge, not over-indulge though. You need examples to understand it better? Here is the Diwali guide as to what will suit the occasion….Over to fashion designers who are more than happy to spell out the festive trends.
Strike a balance
Know your guide: Joy Mitra is a regular at the major fashion weeks of India. He recently represented India at the Fiji Fashion Week, for which he was nominated by NIFT and Ministry of Textiles.
The best pick: Add length to anarkalis to make sure they give a feel of the Indian gown. Only go for either vermillion red or bright fuchsia. For the grand Indian festival season, you shouldn't go for anything less bright.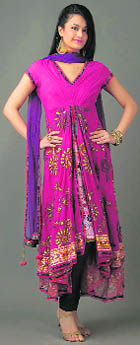 MATCH POINT: A Raj Shroff's creation
Bling factor: Heavy duty work is strictly not meant for festivals. A combination of light, uncomplicated work with bright colours will give your outfit a royal look.
High point: I have done a lot of laces and net in bright reds and oranges. All they have as embellishment is a dash of gold. You don't require more bling than this to look ready for the festive season.
Out of the box
Know your guide: Preeti S Kapoor has got her label's presence felt not just in India, also in Sweden, Italy, Bahrain and Japan. She started her journey in the fashion world, eight years back and has been showing regularly at the WLIFW.
The best pick: It's important to wear something practical in the festive season so that it doesn't impede while you are making all the arrangements. Go for a kalidaar kurta and team it up with a Lucknawi pajama. It will make for an out-of-the-box combination and will be comfortable at the same time.
Bling factor: Swarovski is a rage in North India. I don't mind people adding a few to their creations but don't go overboard with it. It shouldn't add a dramatic feel to the clothes, just make them look apt for this time of the year.



BLACK MAGIC: A Pallavi Jaipur's black jacket
High point: I have made these crinkle kurtas which have beautiful silhouettes with minimalist work limited to sleeves and collar. They are selling like hot cakes this season.
Back to the classics
Know your guide: The fashion designer duo Rahul and Gunjan, is almost the veterans of the fashion industry with their label, Sirali, which is as old as 14 years. They are known for contributing to the revival of traditional crafts of India like block printing and tie and dye.
The best pick: Keep it very traditional. If you want to stick to a safe choice, go for an anarkali suit, which has limited kalis. Volume will make it difficult for you to carry it. If you want to experiment a bit, go for a flairless lehenga. Bright colours, anything from magenta to royal blue to red, would work.
Bling factor: Even if it is centuries old, but paisley work has an eternal grace. It's never out of fashion and doesn't add to the weight of an outfit.
High point: We constructed a golden lehenga only for the occasion of Diwali. It has mughal motives all over, with a lot of emphasis on paisley work. It is light weight as no stone work has been done.
Best of both worlds
Know your guide: Raj Shroff needs no introduction, and the fact that he has been a part of London and Milan fashion week explains it all for this fashion designer. He loves to experiment with the hemline of the Indian wear and many other factors make his creations so popular on the ramp.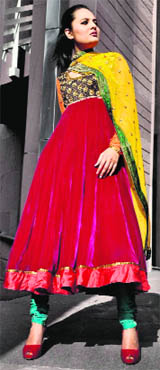 RED HOT: A Joy Mitra's creation
The best pick: The modern Indian women should mix a bit of ethnic with traditional wear. The best way to do that is to team up an anarkali with a short jacket. Give dupatta a miss this time to add twist to your festive wear. A phulkari kurta with a straight palazzo is an ever graceful combination.
Bling factor: Instead of embellishments, experiment with the cut of the outfit. Keep the hemline abstract; add pleats but even those shouldn't be much defined. Subtle zari work is enough to add bling.
High point: A pink suit with a voluminous hemline. It's not loaded with stones but has beautiful embroidery in gold, making it apt for Diwali.
The power of colours
Know your guide: Pallavi Jaipur is a designer of the soil, she has worked extensively with the traditional craft work of Rajasthan and that is apparent in her latest collection for the festive season.
The best pick: Focus on the cut of the outfit rather than on embroidery. Lots of pleats will even make an otherwise plain suit perfect for the occasion. Keep the hemline asymmetrical. Bright colours will certainly do better than subtle ones.
Bling factor: Zardosi is in this season but instead of creating a web out of it on your outfit, mix it with resham work. Mix and match colours well and you won't even feel the need of bling.
High point: A black jacket anarkali gown to be worn over a fuchsia pink suit. I have limited the gotta patti work only to the sleeves and hemline to ensure that silhouettes get highlighted. Bling shouldn't take away attentiion from the designing of the outfit.
ashima@tribunemail.com