Include chapter on organ donation in syllabus: Doc
Expert says brain dead certification should be made mandatory like in Tamil Nadu, wants organ donation centre to come up in Malwa
Megha Mann
Tribune News Service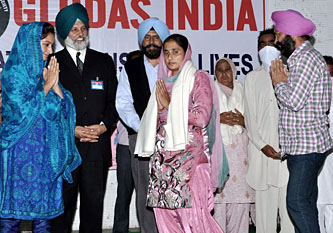 Bathinda MP Harsimrat Kaur Badal (left) greets the kidney donors at a state-level function held at SSD College for Girls on Wednesday to promore organ donation to save the lives of those in need. Tribune photo: Pawan Sharma

Bathinda, November 7
A state-kevel function was held today at SSD Girls College to promote the practice of donating organs to save the lives of others. Member of Parliament from Bathinda, Harsimrat Kaur Badal honoured eight kidney donors who had come along with their recipients at the function that was organized by the Gift of Life Organ Donation Awareness Society (GLODAS).
Speaking on the occasion, president, GLODAS, Dr BS Aulakh said brain death certification should be made mandatory in the case of brain dead patients like in Tamil Nadu.
"Since brain dead patients are potential organ donors, the issuance of this certificate makes it easier for the families to take a decision on harvesting the organs and transplanting them in the needy patients," he said.
Dr Aulakh said a chapter on organ donation should also be included in the syllabus of the Punjab School Education Board (PSEB) in classes IX and X so that people are sensitised about the subject right from their school days.
He said the community, medicos as well as others working in the health sector need sensitisation on the subject. "All religions promote organ donation and we should abide by our scriptures. After death, the body becomes useless, but it can be used to give life to eight people directly and 50 indirectly, in the case of brain dead people," he said while laying emphasis on the need to set up an organ transplantation centre in Malwa.
Vice-president of GLODAS, Dr GPI Singh said organ donation should not be confused with body (cadaver) donation. "Organs can be donated after the death of brain and before the body's death," he said.
Earlier, the students of the BCM Senior Secondary School presented a motivating song on organ donation. Students of Adesh University presented a skit promoting and explaining organ donation in Punjabi society. MP Harsimrat Kaur Badal also signed the body donation (prain dead) proforma prepared by the society on the occasion. Presiding over the function, Baljit Singh Mayor of Bathinda also signed similar documents. The MP also honoured the winners of poster making competition held at Adesh University, including Meghna Gupta, Ishpreet Kaur, Jagjeet Singh and Ashima Singla.
Sudden change in venue
The venue of the function was changed from Government Rajindra College (GRC) to SSD Girls College late on Tuesday evening. Sources said the special trainers, who have been agitating for long, had plans to gherao Harsimrat on her visit to the GRC. Since the SSD College is a private institute, with closed boundaries, it was a much safer place to host the function, sources said.
Kidney donors honoured
Ritu Bala donated kidney to her husband Sandeep Pal two and a half years ago.
Samer Singh's wife donated him kidney a month ago.
Bakhtiar Kaur donated kidney to her son Ranjit Singh a month ago.
Sukhpal Kaur donated kidney to her husband Gurjit Singh five months ago.
Gurdev Singh donated kidney to his brother Sukhpal Singh five months ago.
Poonam donated kidney to her brother Raman Kumar.
Jaswant Singh donated kidney to his young son Ritinder Singh.
Gurdev Kaur donated kidney to her daughter Parminder Kaur (both were not present)