In black & white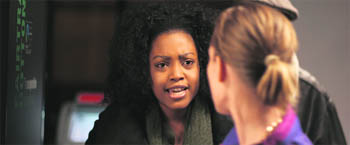 An Indian mother in London with her two-year-old boy stands in the queue to get an ice-cream. The young boy pulls the hand of a two-year old blonde girl standing next to her asking her to play. Only to be snapped back at: My daughter does not play with Pakis or blacks.
A still from the movie Throw Of A Dice

Add that bling!
With everyone trying to look their traditional best this festival season, accessories have become very important and right from potli bags, brocade-lined clutches, totes, chunky jewellery to ethnic footwear with zari, gotta and tilla, everything is becoming a huge hit with people. We check out more.
Warm offerings
Welcoming the winter, Woodland, an outdoor apparel and footwear brand, has launched its contemporary 'Woodland Autumn Winter Collection 12 - 13'.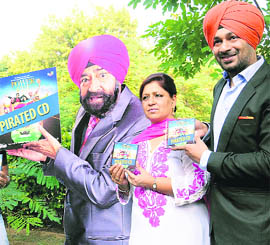 Carrying forward a legacy…
The mishap is unsaid but it still pervades the silence of the 'pirated' audio release of the movie Power Cut. The 'handpicked pirates' handed over the fake CDs to those present at the function, everything true-blue Jaspal Bhatti style. A week after the tragedy, Savita Bhatti and Jasraj Bhatti are the perfect picture of strength and ready to take forward the thought process left behind by the comedy king.



Savita Bhatti and Jasraj Bhatti
Photo: Manoj Mahajan

star track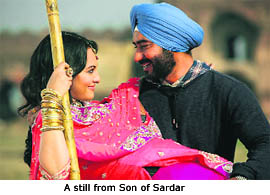 SOS for Son of Sardar
Son of Sardar will clash with Jab Tak Hai Jaan this Divali. We have a clear idea about who will be the winner and probably you do as well. Till then we just compare the qualities of the two movies —



Salman to Kick SRK's Express


Priyanka to play Mary Kom?


Romantic bonding


Sameera's rich cousin


Bullet-proof
chatter box
Millennium milestone
Uttaran, Colors flagship drama series has crossed 1000 episodes. The show that went on air in December 2008 has captivated millions of viewers across the world. Uttaran started out with the portrayal of the ups and downs between two friends that created a phenomenal craze and unmatched loyalty on Indian television. The show, being one of Colors top rated properties has introduced affable and relatable characters like Ichcha, Tapasya, Veer, Jogi Thakur, Nani, Damini, Rathore, Mukta that are household names today.