star track

SOS for Son of Sardar
Son of Sardar will clash with Jab Tak Hai Jaan this Divali. We have a clear idea about who will be the winner and probably you do as well. Till then we just compare the qualities of the two movies —
Cast: Jab Tak Hai Jaan reunites Shah Rukh Khan with Rab Ne Bana Di Jodi co-star Anushka Sharma. It pairs him with the stunning Katrina Kaif for the first time and people are looking forward to seeing them together on screen as lovers. Rishi Kapoor and Neetu Kapoor and Anupam Kher have supporting roles. SOS stars Ajay Devgn, Sonakshi Sinha, Juhi Chawla and Sanjay Dutt in the main roles.
Music: JTHJ brings together Yash CHopra, Gulzar and AR Rahman together as a team for the first time and people are already loving the theme, Jiya re, Ishq Shava, and Saans. SOS has commercial, run-of-the-mill songs with Sonakshi Sinha doing cheap steps and Ajay doing some buffoonery. The music is by Himesh Reshammiya.
Director: Yash Chopra continues to be a legend and nothing can be said about him that has not already been said. SOS is directed by one-film-old Ashwni Dhir. Not a good idea to go up against a stalwart's posthumous release.
Buzz: JTHJ is going to have a grand premiere with all of Yash Chopra's heroines walking the red carpet. Chopra had also announced his retirement and the biggest pull of the movie was its cast and director. No one makes love stories quite like Yash Chopra. SOS has been in the news for Ajay Devgn trying to pull down JTHJ and Sonakshi doing silly things on the sets. It looks like another mindless wannabe 100 crore blockbuster.
Story: SOS is a remake of South Indian film Maryada Ramanna which is a copy of an American silent movie. JTHJ's story has really intrigued people. SRK plays an army officer, he falls in love with Katrina Kaif's character. Anushka Sharma plays a documentary filmmaker who narrates the film and is doing a feature with SRK's character.
So which one will you watch this Diwali?
Salman to Kick SRK's Express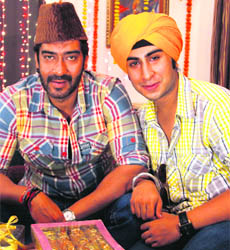 Fighting mode: Ajay Devgn (L).
Jab Tak Hai Jaan is at loggerheads with Son of Sardar and clash with each other on Divali day. Ajay Devgn is miffed with YRF and Shah Rukh Khan for eating into his planned pie for SOS. Salman Khan is on Ajay Devgn's side and has even done a song in the movie.
Khan has devised a strategy to get even with SRK if SOS' collections make Ajay Devgn unhappy. A source says, "Salman Khan loves his friends. He is on Ajay's side obviously and has been promoting SOS through social media.
So, if SOS' collections are not good, he is going to use all his connections in the industry to release Kick next Divali to clash with Rohit Shetty's Chennai Express starring SRK and Deepika Padukone.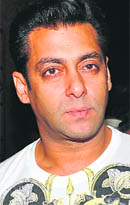 And he will make sure his movie does better than SRK's.
"The source continues, "But in this whole fight no one understands a few things. JTHJ will have its audience. The chances have increased because it is Yash Chopra's last film and he is no more. So Ajay should let the fight go. And why doesn't Salman understand that JTHJ is also Katrina Kaif's film and she is his special friend too. Moreover, Ajay and Rohit Shetty are best buddies." We just hope these boys grow up. If SOS flops, then people might think twice before making mindless movies!
helping hand: Salman Khan
Priyanka to play Mary Kom?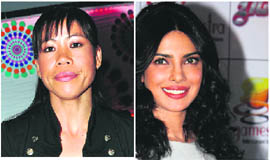 Speculations are rife that Priyanka Chopra is all set to play Olympic bronze medalist women boxer Mary Kom in her biopic. But Chopra cleared the air. 'I've never had any discussions for the part of Mary Kom. It would be a great part for any actress to play, it's speculation for now," she said. Produced by Sanjay Leela Bhansali.
Play act: Priyanka Chopra(L) and Mary Kom
Romantic bonding

Sameera Reddy has been bonding with Rana Dagubbati because they did an item song together. He gives her fitness tips and she gives him fashion tips. They were also romantically linked.
Good Chemistry: Sameera Reddy with Rana Dagubbati
Sameera's rich cousin
Did you know that Sameera Reddy is Siddharth Mallya's cousin? We didn't know. She has fancy connections! She can hang out with him and not care about link-ups!

Bullet-proof
Tigmanshu Dhulia's film with Saif Ali Khan is titled Bullet Raja and it is a masala action film. Other titles considered for the film were Jai Ram Ji Ki and Revolver Rani.