Teacher training workshops organised
Tribune News Service
Jalandhar, November 9
Teacher training workshops were organised by Synergy School System at Ivy World School, Jalandhar, under the able guidance of Vasal Educational Society. It was discussed that the most important aspect of a teacher's attitude towards multi-functional requirements is to allow a child to explore, evaluate and elaborate by engaging his/her interest in learning.
All these topics were tackled through activities and input from teachers was shared. Handling of discipline issues, reward and punishment, classroom and staffroom etiquettes and techniques, etc., were discussed. Teachers were trained in the use of a smart class programme. The importance of ERP system was also explained to them. Principal S. Chauhan expressed that the training session was a vital tool to ensure the success of students and it helps in uniform performance.
Divali celebrated
Innocent Hearts, Green Model Town, Jalandhar, and Innocent Hearts, Loharan, celebrated Divali. Students presented songs and poems on Divali in the morning assembly. A magic show was also presented in the primary wing. Students from class I and class IV participated in "sweets and snacks-making competition. Students of class V and class VI took part in non-fire sweet-making competition. Students of class IX participated in mehndi competition and students of class X and class XI took part in non-fire cooking competition. Teachers taught the importance of Divali and Bhaiya Duj to students. At the end, students wished Happy Divali to each other.
Flower arrangement competition


Students participate in a rangoli competition during the Jalandhar Independent Sahodaya Complex inter-school rangoli and flower arrangement competition in Jalandhar. Photos: Sarabjit Singh
Jalandhar Independent Sahodaya Complex inter-school rangoli and flower arrangement competition was organised and hosted by British Olivia School, Rama Mandi. As many as 17 to 18 CBSE-affiliated schools from Jalandhar and the adjoining areas participated in the contest. The team from Lala Jagat Narain School lifted the trophy for the rangoli competition. Police DAV Public School, Jalandhar, got the second prize and Innocent Hearts School, Jalandhar, got the third position in this category. Innocent Hearts School took the trophy for the best centre table flower arrangement, CT Public School, Jalandhar, stood second and La Blossom School stood third in this category. APJ School lifted the trophy for the best corner table flower arrangement competition, La Blossom School stood second and Innocent Hearts School, Jalandhar, stood third in this category. Students of British Olivia School did not compete since they were the host school. Vijay Maini, director, British Olivia School, gave a vote of thanks to the chief guest, judges and all guest teams.
Thali, candle decoration contests
Apeejay School, Rama Mandi, organised thali decoration (primary section) and candle decoration contests. In the primary section, students decorated thalis by using waste materials like stones, which were painted with pencil flakes, bangles, CDs, ear buds, etc. In candle decoration, students displayed their talents by decorating candles beautifully. Their creativity was appreciated by one all.
The results
Thali decoration: In class I, Bhuvanjot and Brahmjot stood first, Raghav stood second and Dakshita stood third. In class II, Sehaj stood first, Jyanshu stood second and Ramneek stood third. In class III, Gurnoor stood first, Bhavyam and Eshwerjot stood second and Sanjova and Abhijay stood third. In class IV, Simran stood first, Deepanshi stood second and Komal stood third. In class V, Harshdeep stood first Simran second and Vishwas third.
Candle decoration: In class VI, Harmandeep (first), Gurbal (second), and Sonali (third). In class VII, Tarun stood first, Eknoor (second) and Amit third. In class VIII, Sony (first), Navdeep Singh (second) and Aagreen stood third.
English debate
An inter-formation English debate competition for all Army Public Schools under the Western Command was organised at Army Public School. The honoured chief guest for the occasion, Brigadier N Raj Kumar SM, chairman, Army Public School, Jalandhar, was welcomed by principal Ashok Jain and vice-principal Suman Singh. Col JS Nirmal, Additional Director, AWES 11 Corps HQ (retd), also graced the occasion with his presence. The topic for the debate was 'eloquence in speech is a greater asset than brilliance in thoughts'. APS, Jalandhar, had the winning edge when both speakers, Nikhilesh Mehra and Manasi Singh, were bracketed at the first position. The third position was bagged by Harish Puri of APS, Patiala. Neer Priya Bakshi of APS, Noida, was adjudged the best interjector. The overall trophy was bagged by APS, Jalandhar.
Annual sports day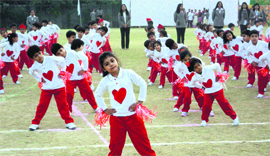 Students of Delhi Public School take part in the annual sports meet
DPS, Jalandhar, organised its Annual Sports Day on the school premises. The programme commenced with the welcome of the chief guest. The chief guest on the occasion was Aditya Mishra IPS, IG, who is himself an alumnus of Delhi Public School. The march past by 250 students took off with the chief guest taking the salute. It was performed with perfect synchronisation by all four houses - Carnations, Daffodils, Lavenders and Orchids. Principal Asha Kumar accorded a cordial welcome to the chief guest. The programme started with a mass drill. Students put up excellent displays in drills and formations. A cultural programme was also presented on the occasion.