SOCIETY
How Divali has changed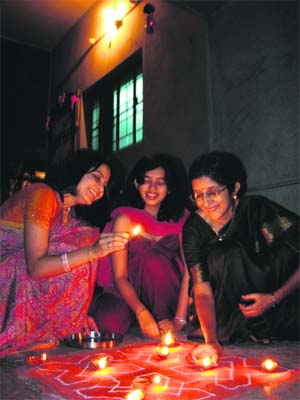 Waning warmth and togetherness
Over the years, the ways in which we celebrate the Festival of Lights have changed. From extended families to nuclear units and from sprawling family homes to apartments, traditions have evolved, vanished or been modified
Pooja Dadwal
FOR a nation that is obsessed with festivity and cultural celebrations, no other festival warms the cockles of our hearts, as strongly and fervently, as Divali. The Festival of Lights or Deepawali, as it is also called, has long since stood for the leitmotif of warmth, celebration, and cheer. Over the generations, has the festival and festivity taken a different hue of meaning? Have the decades done justice to the rituals that essentially spin the charm around Divali or have they been relegated as perfunctory tasks, to be done on automation?
---
Society
It's time for family bonding
Aditi Garg
RAJ Rani Jain, 70, is a warm-hearted matriarch who believes that like everything else in life, traditions should also be allowed to evolve. Her husband, a retired engineer, P.P Jain, is the head of the Jain family in Chandigarh. For them, it is a time for family bonding and performing rituals while also allowing for changes.
Shared vs solo celebration
Sandhya Renukamba
THE celebrations have changed over the past three generations: From my grandmother's time to my daughter's. When I was a very little girl, preparations for Divali meant a frenzied round of cleaning and the cooking of goodies. Women in a neighbourhood would do this collectively. Groceries were bought by the sack and distributed to all houses.
Southern lights
For us, Divali was taking an oil bath early in the morning and eating the must-have legyam, made of herbs. New clothes would be worn with the blessings of our grandparents and there would be a competition in taking a lead and bursting the loudest cracker at dawn
Deepa Mukund
Divali has always been the one festival to look forward to for the joy and happiness it brings along with it. I grew up in an extended family and all my aunts and cousins would come from all over India. Once they arrived (even if it was three or four days earlier), it set the pace.
---
Arts
Photo finesse
Fashion designer J. J. Valaya is back again with his latest photography exhibition wherein he captures the beauty of architectural patterns of the three cities of Chandigarh, Jodhpur and Dufftown in Scotland
Ashima Batish
Welcome onboard! Your host on this journey from Dufftown in Scotland to Jodhpur via Chandigarh is J.J. Valaya. Not in terms of distance, Valaya gauges the journey in the number of years, which he says, is almost four decades, transporting you to his childhood. The only souvenirs that can be collected in intangible form are the architectural patterns of three cities.
---
SPORTS
Mermaid who conquered seven seas
Bhakti is certainly swimming towards new horizons. She has crossed seven seas, including four oceans; and is the third person in the world to have swum across the Arctic Ocean
Rakesh Kumar
Bhakti Sharma, 23, is quite the water baby. She is the youngest in the world to have crossed seven seas, including four oceans; is only the third person in the world to have swum across the Arctic Ocean, and is now eyeing the Antarctic Ocean to become the youngest to swim in all five oceans.
Preparing for a turf war
Despite being trounced at the London Olympics, the spirit of the Indian hockey team has not been crushed. It is honing its skills to face tournaments ahead
Gagan K. Teja
After India lost all its matches during the London Olympics, sports critics and fans had termed the worst-ever phase in the history of the sport as far as the country's performance in Olympics was concerned. Their apprehensions certainly could not be ignored.
---
travel
Cosy in queen's land
Ranikhet, which means Queen's meadow, gets its name from a local legend. Raja Sudhardev won the heart of his queen, Rani Padmini, who subsequently decided to make it her home
Sudhamahi Regunathan
FOR those who like the slight chill, this is the perfect weather for a trip to the Uttarakhand hills. A little later and it will get too cold, a little earlier the days would be warm. A bowl of hot soup, a warm blanket and a cloud hovering over you in a pine forest`85it could be paradise rediscovered.
---
Entertainment
Screens sparkle with romance, comedy
Yash Chopra's swan song Jab Tak Hai Jaan! and Ajay Devgn's action comedy Son of Sardaar are tipped to set the cash counters ringing this Divali. But it remains to be seen which will be the bigger fire cracker
Deepa Ranade
Divali festivities, holidays, bonuses and the auspicious mahurat, all together make for a perfect combination for a film release. Traditionally, Divali has been regarded as most propitious for big-ticket movie releases.
---

FRUIT FACTS