GNDU lifts trophy at youth festival
Tribune News Service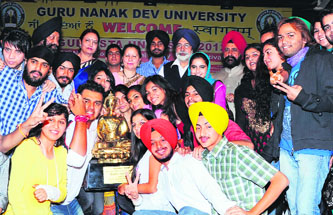 GNDU students with the overall trophy of 28th North Zone Inter-University Youth Festival in Amritsar on Sunday. A Tribune photo

Amritsar, November 11
The host Guru Nanak Dev University teams won the overall trophy of the 28th North Zone Inter-University Youth Festival - Guldasta 2012. The teams of Punjabi University, Patiala, remained second.
Sardar Sikandar Singh Maluka, Minister of Higher Education and Languages of Punjab, was the chief guest on the occasion and gave away trophies and medal to the winners.
Vice Chancellor Prof Ajaib Singh Brar presided over the prize distribution function. Registrar Dr Inderjit Singh; observer from Association of Indian Universities Dr RK Dhand; Dean, Students Welfare, Dr PK Shejpal; Dean, Colleges, Dr MS Hundal; and Director Youth Welfare, Dr Jagjit Kaur were also present.
Sardar Maluka welcomed the various teams from different universities of North India. He said these types of festivals provide a common platform to understand the culture of neighboring states and develops the sense of brotherhood between students. He also congratulated the Vice Chancellor for the successful organisation of this festival.
He said though the youth of Punjab have been excelling in every field, most of the youth lag behind in higher education as compared to other states. He called for collective efforts by institutes and teachers to meet this challenge. He said the Punjab Government has kept education at top priority in its budget. He said in the near future various universities of Punjab would sign MoU with Punjab University, Lahore, for exchange of faculty and research.
Earlier, Prof Brar lauded the achievements of Guru Nanak Dev University in various fields.
He also encouraged student-artists who didn't secure positions in the festival to work hard and overcome their shortcomings to get better results at the next festival.
Final results
Category: Music-Classical vocal solo (Hindustani/Carnatic)
1) Guru Nanak Dev University, Amritsar; 2) Ch Devi Lal University, Sirsa; 3) Lovely Professional University, Phagwara; Himachal Pradesh University, Simla, & Punjabi University, Patiala.
Classical Instrumental Solo (Percussion - Tal Vadya)
1) Guru Nanak Dev University, 2) Punjab Technical University, Jalandhar; 3) Lovely Professional University, Phagwara; Himachal Pradesh University, Simla
Classical Instrumental Solo (Non-Percussion-Swar Vadya)
1) Guru Nanak Dev University; 2) Dr BR Ambedkar University, Agra; 3) Lovely Professional University; Punjabi University; and University of Jammu
Light Vocal (Indian)
1) Punjabi University; 2) Guru Nanak Dev University; 3) Lovely Professional University; Panjab University, Chandigarh
Western Vocal Solo
1) Guru Nanak Dev University; 2) Punjabi University; 3) Kurukshetra University
Group Song (Indian)
1) Guru Nanak Dev University; 2) MD University, Rohtak; 3) Punjab Technical University; Himachal Pradesh University, Simla; Ch Devi Lal University, Sirsa
Group Song (Western)
1) Punjabi University; 2) Guru Nanak Dev University; 3) Lovely Professional University
Folk Orchestra
1) Guru Nanak Dev University; 2) Lovely Professional University; 3) Punjabi University
Music Trophy: Guru Nanak Dev University
Category: Theatre-One Act Play
1) Guru Nanak Dev University; 2) Kurukshetra University; 3) Himachal Pradesh University
Skit
1) Punjabi University; 2) Panjab University; 3) Punjab Technical University; MD University, Rohtak; GNDU
Mime
1) Guru Nanak Dev University; 2) MD University, 3) Panjab University
Mimicry
1) MD University, Rohtak; 2) Guru Nanak Dev University; 3) Punjabi University
Theatre trophy
Guru Nanak Dev University