North Zone Inter-University Youth Fest begins
Tribune News Service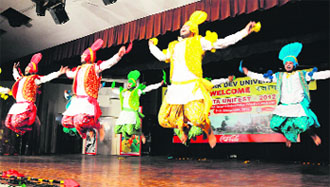 Students of Punjabi University perform bhangra; and (below) students of Maharshi Dayanand University, Rohtak, perform a folk dance during the 28th North Zone Inter-University Youth Festival "Guldasta 2012" at Guru Nanak Dev University in Amritsar on Wednesday. Photos: Vishal Kumar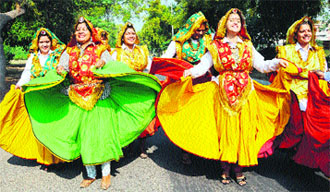 Amritsar, November 7
The 28th North Zone Inter-University Youth Festival "Guldasta 2012" was inaugurated here today. The chief guest inaugurated the festival by lighting candles in the University Sports Grounds in the presence of galaxy of student-artistes, teachers, officers and eminent personalities of the city.
More than 1,100 student-artistes of 28 universities from all over Northern India are participating in the competitions of music, theatre, dance, literary and fine arts.
This festival is being hosted by Guru Nanak Dev University under the aegis of the Association of Indian Universities (AIU), New Delhi, and the Ministry of Youth Affairs and Sports, Government of India.
Prof SN Puri, president of the Association of Indian Universities and Vice-Chancellor, Central Agricultural University, Imphal, was the chief guest, while Prof Ajaib Singh Brar, Vice-Chancellor, of Guru Nanak Dev University, presided over the occasion.
Sampson David, cultural coordinator, and deputy secretary, AIU, and RK Dhand, Vikram University, Ujjain, MP, were the guests of honour.
Eminent singers and alumni, Jasbir Jassi, Amrinder Gill, Sarabjit Cheema and Satinder Satti were also honored on the occasion by the university.
Dr Jagjit Kaur, Director, Youth Welfare, detailed the achievements of the department.
While congratulating the Vice-Chancellor for organising this festival, Prof Puri said 400 universities in the country catered to around 1.75 crore students.
He advocated that universities should encourage all students to participate in cultural and sports activities so that their hidden talent could be recognised. He said students should participate in competitions with the true spirit of sportsmanship without bothering the results.
Blessing the student-artistes, he said the energy of youth should be properly channelised for the benefit of society.
"These types of youth festivals not only utilise the energy of youth for constructive purposes, but also remind them about their rich cultural heritage," Prof Puri said.
Prof Brar said universities should always encourage the constructive activity of the students.
Earlier, the festival started with the cultural procession of the students from the multipurpose Gymnasium Hall to Sports Grounds of the university.
The student-artistes of the university presented gidda, bhangra and folk orchestra under the guidance of registrar Dr Inderjit Singh.
Eminent singers and alumni, Jasbir Jassi, Amrinder Gill, Sarabjit Cheema and Satinder Satti also performed on this occasion.