Cold wave intensifies in Himachal
Heavy rain in most parts of state, snow in higher reaches
Tribune Reporters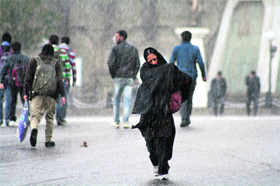 People walk during rainfall in Shimla on Thursday. Photo: Amit Kanwar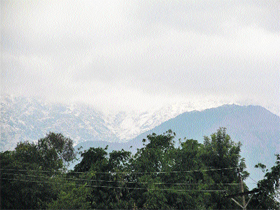 The snow-clad Dhauladhars on Thursday. Photo: Ashok Raina
Shimla, November 29
With snowfall in most parts of the tribal districts of Lahaul-Sptiti and Kinnaur since last night, the state is in the grip of a severe cold wave. Most parts of the state were lashed by heavy rain today, resulting in a considerable dip in mercury.
Shimla and surrounding areas, including Kufri, had rainfall, accompanied by a hailstorm and a brief spell of snowfall. Vehicular movement to Lahaul-Spiti via Rohtang was halted as the area received about one foot of snow.
There were reports of about half a foot of snow in Mari and Koksar. As a precautionary measure, the staff at the check posts in Rohtang were not allowing people to cross the pass even on foot.
There are reports that hundreds of people, many of them employees, who were on their way from Kullu to Lahaul-Spiti, were stranded in Rohtang.
There was five inches of snowfall in Keylong. Various parts of Kinnaur district, including Sangla, Chitkul, Lippa and Gyabung, received snow.
The minimum temperature in Shimla was 6.1 degree Celsius, Bhuntar 8.8 degree Celsius, Kalpa 1.5 degree Celsius, Dharamsala 7.6 degree Celsius, Una 1.4 degree Celsius, Mandi 4.9 degree Celsius, Nahan 8.9 degree Celsius, Keylong -0.7 degree Celsius, Palampur 9.5 degree Celsius and Manali 3.6 degree Celsius.
Mandi: The land-locked Lahaul valley was cut off as the 13,050-foot-high Rohtang Pass was closed to traffic. According to Border Roads Organisation (BRO) sources, the pass was blocked following snowfall.
Solang and Dhundi in the uphill of tourist town of Manali, Keylong, the district headquarters of Lahaul-Spiti, recorded three-five cms of snow today, sources revealed. There was snowfall in Barot, Jalori Pass and Prashar Lake, sending chilly winds across the region.
BRO Commander Yogesh Naryyar said, "After the weather is clear, we will clear the snow and restore the Rohtang highway for traffic."
Manali: There was a fresh spell of snowfall in the upper Manali area and rain in the lower parts of the region on Thursday, resulting in a considerable fall in temperature.
The Manali-Sarchu road, which was to be closed to traffic, remained open due to the dry spell in the region. The ski slopes of the Solang valley also received the season's first snow.
Traffic on the Manali-Rohtang road was disrupted at several places beyond Kothi, 12 km from here. All tourist vehicles had to be stopped at Kothi.
Hundreds of tourists made a beeline to see the snow. There was a festive atmosphere in Kothi and the Solang valley as tourists enjoyed fresh snowfall.
The snowfall brought cheer to those associated with the tourism industry. They fell that it would boost tourism and usher a long winter in Manali. Farmers and fruit-growers welcomed the snow and rain.
The higher reaches in Kullu, including the Pir Panjal ranges, Marhi, Gulaba, Bhrigu slopes, Hamta Pass, Chanderhkani Pass, Beas Kund, Dhundi and Solang, also received fresh snow.
Kangra: The Kangra valley shivered following snowfall on the Dhauladhar ranges and the foothills since Wednesday night. The valley received rain after a long dry spell.
People preferred to remain indoors on Thursday due to the shivering cold. Schoolchildren were worst affected. The sky was overcast since the morning. There were showers in Dharamsala and McLeodganj.
Tourists in McLeodganj enjoyed the weather and hoped for snowfall. There were reports of rain in Palampur, Malana, Chamunda, Gaggal, Rait, Shahpur and Nagrota Bagwan.
Nurpur: Incessant rain since Wednesday night brought cheer among farmers and fruit-growers in the area. Farmers had been waiting for rainfall to sow rabi crops.
According to agricultural experts, the rain was in time. They said it would benefit those who had sown the wheat crop and would expedite sowing operations.
According to SS Rana, Associate Director, Regional Horticulture Research Centre at Jachh, the rain would improve the quality of citrus crops and plants and reduce the danger of frost in winter.