Gujral, Kalam and the Bharat Ratna
Seen as soft in foreign policy, Gujral as PM believed if he honoured Kalam he would be sending a powerful message across the world about the importance he gave to India's security
Raj Chengappa

Former Prime Minister Inder Kumar Gujral, who died on Friday at the age of 92, was widely regarded as a peacenik. His goateed beard and affable demeanour enhanced that image. With his brother Satish being a famous painter, Gujral was equally at ease in the world of art, culture and literature as he was with diplomacy. With politics, however, he was never as comfortable, but the roll of the dice would see him attain the pinnacle of power.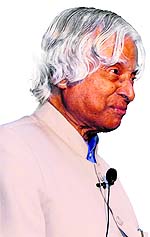 What is little known though was how desperately Gujral worked to shed the impression of him being a softie towards the end of his political career. That persona took firm root when during his first stint as External Affairs Minister in 1990, he began to evolve what later was called the 'Gujral doctrine', which essentially amounted to India conceding more to its smaller neighbours and taking less from them in order to ensure better relations with them. That may have won him brownie points in international forums but back home, with Pakistan escalating its plan to destabilise Kashmir, such talk was regarded as wimpish, even naďve.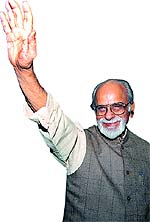 It was, however, in his second stint as External Affairs Minister in Deve Gowda's Cabinet in 1996-97 that Gujral began to alter his benign image. It was around that time that a decision was taken to deploy the nuclear-tipped Prithvi missiles in Jalandhar. It was not done as a show of aggression by India. The reason they were being moved was far more mundane.
Bharat Dynamics Limited (BDL), the Hyderabad-based public sector company that was putting together Prithvi, complained that it did not have enough space on its premises to store those. BDL wanted the Indian Army to move them out, and Jalandhar had been identified as the staging base for the Prithvi missile, which had a striking range of 150 km. From there, India could target any of Pakistan's major cities.
When the US spy agency CIA got wind of India's plans to move its strategic missiles, Frank Wisner, the then US Ambassador to India, rushed to Gujral's office to confront him. Gujral told me that Wisner asked him: "Mr Minister, I am told you are planning to deploy the Prithvi in Jalandhar." To which Gujral replied, "Mr Ambassador I hope you know that Jalandhar is in India. We have to store our missiles and we can't store them in Timbuktu."
The Prithvi missiles, however, were not moved till Gujral became Prime Minister in April 1997. There was pressure on Gujral then from nuclear scientists wanting clearance to conduct underground nuclear tests. The previous year Gowda had refused them permission to carry out the tests after AB Vajpayee during his short first stint as Prime Minister in 1996 had sanctioned them just before his government fell.
When he took over as Prime Minister, Gujral was clear that 1997 was not the right time for India to test its nuclear weapons and preferred a policy of maintaining a recessed but robust deterrent. He told me, "Why play pahalwan when you are not a pahalwan?" He believed that the Indian economy needed to be resilient and that it would be difficult for a weak coalition government to weather the international storm that would result from the tests.
Irked by criticism from the Opposition that he was a weak-kneed Prime Minister, he told me graphically, "The tragedy is that you want me to prove that I am a potent person. And you want me to lower my trousers to show that I am potent. But I refuse to perform in public. Our policy of nuclear ambiguity is the correct path." Then he added, "India will not be found wanting. Don't worry, I will not leave the next generation naked."
Gujral preferred to make a statement with India's strategic missiles to demonstrate his convictions. He ordered that the Prithvi missiles be moved to Jalandhar. That did enhance his image. But with the BJP continuing to taunt him about his lack of potency, before Gujral resigned as Prime Minister he decided to make one more big statement that he cared for India's security.
He was a great admirer of APJ Abdul Kalam and his contribution to India's space and missile building capability. Gujral believed that if he honoured Kalam he would be sending a powerful message not just to the nation but across the world about the importance he gave to India's security. He decided that Kalam should be awarded the Bharat Ratna, the nation's highest honour and announced it in November 1997.
As Gujral explained to me later, "If I invite you to the naming ceremony of my son what does it mean? Do you then question my potency?" Then in an unusually harsh tone he added, "This was also a message for those who didn't trust Muslims. I spat on their face by giving Kalam the Bharat Ratna."
Within days of the decision, Gujral had to resign as Prime Minister, with the Congress withdrawing support to his government over the findings of the Jain Commission. By then he had made Kalam a living icon and in doing so Gujral also earned a name in the annals of India's security.
raj@tribunemail.com