Not all's well in the classroom
By Aditi Tandon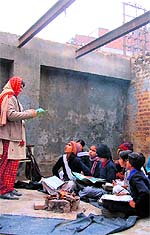 CENTRE OF LEARNING: Many government schools don't even have proper classrooms.

The discourse in India's education sector has finally begun to change. For the first time in 65 years of Independence, policymakers are asking a question that many feel they should have asked right from the start: What goes on inside India's classrooms?
Studies have revealed that learning outcomes for children in Indian schools are far below the corresponding levels in other countries and their learning trajectories remain flat as they move up. The trend reflects weak teaching processes, where instruction remains an uninteresting routine marked by little happy engagement between teachers and students.
The starkest finding of three consecutive Annual Status of Education Reports published by Pratham, a community-based organisation, reveals more than half of class V students across India's government primary schools can't read basic class II text. This is disturbing as 80 per cent children aged between 6 and 14 years are enrolled in government schools.
The government had known for long that school learning was a problem, only it was silent about the rot. The school curriculum development body, NCERT (functions autonomously under the Ministry of HRD), conducted two rounds of national learners and achievement surveys that reflected poor learning at all school levels.
While 61.89 per cent of class III students knew their maths at the end of 2008, only 48.46 per cent in class V and 42.71 per cent in class VIII knew the skill. In languages, 67.84 per cent class III graders had the articulation and expression skill at the end of 2008, as against 60.31 per cent class V students and 56.57 per cent class VIII students.
The NCERT says learning levels across two surveys of 2003-04 and 2007-08 improved considerably. But subsequent independent researches by Pratham (2009, 2010 and 2011) and Organisation for Economic Cooperation and Development (OECD) that conducts annual learning assessment of students across the world through its programme for international student assessment (PISA), proved otherwise.
PISA findings shocked India's policy planners who participated in it for the first time, only to know that 15-year-olds in the country's best states — Tamil Nadu and Himachal — finished second last, beating only Kyrgyztan in the rankings of 73 nations for reading, maths and science abilities.
These researches could not have come at a better time, considering India is finalising its 12th Plan strategy, which for the first time acknowledges that despite high levels of enrollment, the value added by formal education is still very low.
Weak learning outcomes
Poor quality of education, resulting in weak learning outcomes, is a challenge for the education sector today, admits the strategy, saying the major focus of the Plan will be to measure and improve learning outcomes, with a clear recognition that increasing inputs (schools, classrooms and teachers) will by themselves not be enough to ensure quality education.
"Quality is going to be the focus. We have to ensure that measurable learning goals are defined and mechanisms evolved to test them," Kapil Sibal, former HRD Minister, had said ahead of the Cabinet reshuffle.
The plan is to devote resources to develop objective, achievable measurements of students; promote learning; and encourage states to define learning goals and measure them independently. National performance standards for teachers are also being mooted, along with a system of performance-based appraisal on a teacher's competency and efforts to transact learning-related processes in class and improve outcomes.
Exercising caution
Experts are, however, wary of the heightened stress on learning outcome testing of students. They fear the system might result in the sort of backlash the US is witnessing against the "no child left behind" policy of former President George Bush, which focused on student testing to improve quality. But it became a means of punishing teachers, cutting their salaries and transferring them for poor performance.
"We must be careful considering our low capacity to train teachers to deliver such standards," says educationist Vinod Raina, member of the HRD Ministry committee that drafted the Right to Education (RTE) Bill. Raina, also a member of the Central Advisory Board of Education, is for low stakes testing of students like the continuous and comprehensive evaluation (CCE), as advocated by the RTE Act and adopted by CBSE schools. The Planning Commission is proposing a high stakes testing meant to influence policy.
But the strategy is clear in its objective of going all out to test outcomes to improve them and use reporting of learning outcomes to have states deliver quality education. In the process, flaws in the system of instruction have been acknowledged, enabling rectification. There is realisation that focus on access has led to the neglect of learning which sustains through the school and manifests in dangerous forms later.
Scientific talent declining
Government data shows that science and maths education at secondary and senior secondary levels is very poor. As many as 80 per cent of all students who fail in class X boards do so due to poor knowledge of science, maths and English. This results in low transition rate of students from class X to class XI science, as reflected in the less than 12 per cent share of students in undergraduate science streams.
Catching them young
Krishan Lal, president, Indian Science National Academy, says: "If you want students to develop a scientific temper, you must allow them to flourish when they are young. School curriculum needs to be reviewed urgently for it to become interesting rather than mechanical."
Policy planners are thinking of exempting engineering graduates from GATE test (needed for PhD courses). A call will be taken by the Standing Committee of the IIT Council (SCIC), an executive sub-group of the apex decision-making body of the IITs, at a meeting on November 5.
An important strategy in the Plan will be to teach students in their home language. Evidence shows most students in the Hindi belt are unable to cope with the basic textbook Hindi as they speak Maithili or Bhojpuri at home. The focus will be on bridge courses for students whose home language is different from the textbook language, Sibal had said. His successor MM Pallam Raju has promised to "carry forward Sibal's good work".
The change in thinking comes at the right time, with the review of the 11th Plan showing few targets on education have been met. The RTE deadline of March 31, 2013, is set to be extended as only 4.8 per cent of 13 lakh elementary schools (class I-VIII) have all nine facilities that the Act mandates, including toilets, ramps, one classroom per teacher, playgrounds and libraries.
RTE deadline stays
HRD Minister MM Pallam Raju has announced that the government would not extend the RTE deadline beyond March 31, 2013, as planned by his predecessor Kapil Sibal. On his plans to meet the deadline in four months (schools are short of 13.5 lakh teachers), he says: "Our commitment to meet the deadline is the plan. We will inspire, coax, and threaten states to meet the targets."
UP and Bihar have already said in the November 9 meeting of the Central Advisory Board of Education that they cannot meet the RTE deadline. Sibal had kicked off the process of consultation to extend the deadline, lest parents and litigants take the government to court for failing to guarantee the legal entitlements under the RTE law.
Plan targets not met
Eliminate dropout at primary level; rate still 28.86%
Cut dropout rate at elementary level (class VIII) from 50% to 20%; current rate 42.39%
Eliminate gender gap; parity index 0.93 (primary), 0.94 (upper primary)
Universalise preschool education; only 47% enrolled under in Integrated Child Development Services
Improve gross enrolment ratio; just 49% (higher secondary), much below China and Thailand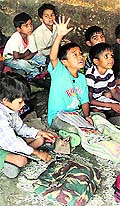 Areas of concern
Learning outcomes in schools far below those of other countries
Decline in learning as students move up the pyramid
Over half of class V students in government primary schools can't read class II text
Science & maths education at secondary, senior secondary levels poor
Scientific temper declining
Only 4.8 per cent of 13 lakh elementary schools have all facilities RTE Act mandates
Teaching models
The 12th Plan strategy advocates replication of activity-based learning models of Tamil Nadu, Gunotsav model of Gujarat and Purrho Punjab model.
China far ahead
PhD output from science, engineering streams is 50,000 annually while India's is 9,000.
Produces 12% of the world's research publications in science and engineering as against India's 3%.
Shanghai province topped reading, maths and science charts in the ranking of 73 nations. India finished second last.