Homage paid to war heroes of Punjab
Tribune News Service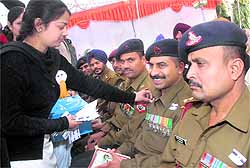 Students paste stickers on the uniform of soldiers at Punjab State War Memorial on the occasion of Armed Forces Flag Day in Jalandhar on Friday. Photos: Malkait Singh

Jalandhar, December 7
A function was held at Punjab State War Memorial today on the occasion of 'Armed Forces Flag Day'. It was jointly organised by the Vajra Corps and the District Sainik Welfare Board.
Lt Gen S Madhok, General Officer Commanding, 11 Corps, was the chief guest on the occasion. He was welcomed by Priyank Bharti, deputy commissioner-cum-president, District Sainik Welfare Board; and Brig KS Dhillon, vice-president of the board.
The GOC laid wreath at the memorial and paid homage to the war heroes of Punjab. The programme started with a devotional song by the students of BD Arya Girls' College. Lt Gen Madhok made a fervent appeal to everyone to contribute generously on the occasion as their contribution would go a long way in mitigating hardships faced by the widows of the heroes of Punjab. He presented a cheque of Rs 30,000 to the District Sainik Welfare Board for the empowerment of widows, disabled soldiers, ex-servicemen and their dependents.
The deputy commissioner lauded the role of the Vajra Corps in promptly sending technical teams for rescuing labourers trapped during the Shital Fibres factory collapse episode in April this year.
"A labourer's life is far more important as his entire family is dependent on his measly income. The Army men did a yeomen's service in rescuing nearly 20 labourers out of the debris," he said.
Lt Col Harvinder Pal Singh, District Defence Services Welfare officer, said: "During 2011-12, financial assistance had been provided to 557 widows, destitute ex-servicemen and other deserving beneficiaries to the tune of Rs 5.82 lakh. The Jalandhar office had made a collection of Rs 33 lakh last year through Flag Day contributions."
Among those who attended the event were Major Gen Binoy Poonen, Chief of Staff, Vajra Corps, Brig HPS Pall, Brigadier Administration, Brig IJS Chouhan, Commander 91 Sub Area, and Brig Dharamvir Singh, Commandant Military Hospital. Retired officers, including Lt Gen Surjit Singh, Lt Gen MS Shergill and Lt Gen AS Bahia also attended the event.
Faux pas
The District Defence Services Welfare Office conducted a faux pas today when they invited Parkash Kaur, widow of Sepoy Dilbagh Singh from 5 Sikh Regiment, for receiving a reward but returned her empty handed. A chair at the function carried her name and so did the list of beneficiaries; but the organisers perhaps did not had anything to offer.