Industrialists' suggestion to PHD Chamber

'Broaden scope at PITEX to boost trade'
Neeraj Bagga
Tribune News Service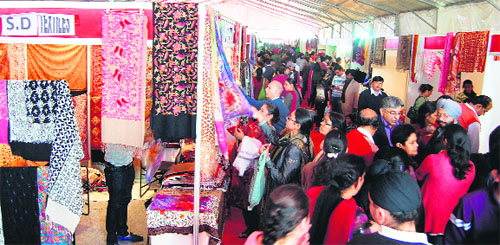 Residents throng the trade fair on Sunday. photo: sameer sehgal
Amritsar, December 9
Industrialists and manufacturers feel that even though the PHD Chamber has made elaborate efforts to attract foreign traders at the ongoing Punjab International Trade Expo, but it needs to explore business to business approach and liaison with importers and exporters.
PL Seth, a city-based shawl manufacturer and exporter, said there was a need to broaden the scope of PITEX, which has become an annual edition, from 'businessmen to consumers' to 'businessmen to businessmen'.
"Keeping in view the public response, the Punjab International Trade Expo is a hit, but there is a need to broaden its sphere," he quipped.
He suggested that the organisers must carry out a study to identify the importers from the participating countries in the PITEX and invite them to take part in the next edition. Besides, export promotion councils, constituted by the Union Government, could be contacted to identify the importers and exporters.
He said in order to achieve this, the PHD officials would have to put in extra efforts to inculcate links with manufacturers and whole sellers of interested participating countries. He said only this would ensure bulk sale and long standing trade partnership.
Visits to the PITEX unfolded that majority of the visitors at stalls are retailers who came with families for an outing, said Rajesh Mahajan, operating a printing and packaging unit locally.
He said couple of his counterparts from Ludhiana also came down especially to participate in the PITEX, but were discouraged to find unavailability of a separate felicitation centre for importers and exporters.
He said there was a need to reserve some hours daily for businessmen to businessmen dealing.
Various industries of Amritsar may not have directly benefited from the five-day PITEX, but its indirect benefits could be immense in the times to come, felt many leading city industrialists.
A leading industrialist, Kamal Dalmia said seminars on trade opportunities in Africa and stalls by various south Asian countries educated a large section of the city's industrialists regarding a host of opportunities to grow. He said, "The real success could not be ascertained as long as manufacturers and whole sellers do not sit across the table to thrash out a constant trade link".
The owner of an export-oriented pharmaceutical unit, Raman Gupta, said going by the name, the international trade fair must be focused on the local industry in general and the region in particular. For instance, there are about 10,000 units of engineering goods and 45 of pharmaceuticals in the region. He said there were many cities in the world where economy rest on trade fairs as these were vital platforms for convergence of traders and manufacturers.
RS Sachdeva, Co-Chairman, PHD Chamber Punjab Committee, said we had focusing on all these points. "The next edition of PITEX will see more industry specific and cluster targeted exhibition."
He said even at this edition, many associations of local industries took part in the fair after they were contacted. He said importers and exporters of the participating countries would also be contacted to facilitate the trade.

PHD, Jhang chambers ink MoU
Amritsar, December 9
The PHD Chamber and Pakistan's Jhang Chamber of Commerce and Industry (JCCI) today signed an MoU to facilitate the exchange of information about the products and manufactures of products on the penultimate day of the 7th edition of the Punjab International Trade Exhibition.
RS Sachdeva, Co-Chairman, PHD Chamber, Punjab Committee, who signed the MoU on behalf of PHD Chamber, said never before there had been such one to one interactions to explore possibilities of trade and mutual cooperation.
"It is time to consolidate all these discussions and start working at the chambers' level."
Sharing the details of the MoU, Sachdeva said both the chambers shall facilitate the exchange of information about the products and manufactures of products; and respective buyers, sellers and service providers in both the countries.
He said both the chambers would send strategic trade delegations to either country. Further, as per the MoU, joint exhibitions for products and services in India and Pakistan would be organised in both India and Pakistan.
Both the JCCI and PHD Chamber would strive to expand and develop bilateral relations and cooperation in the fields of trade, industry, investment and other economic fields between the both countries.
On behalf of JCCI, its senior executive member Mohammed Khan signed the MoU.
Khan appreciated PHD Chamber's efforts through PITEX to take forward the bilateral trade to the next level.
Khan said there was a lot of scope for trade in handicrafts, textiles, surgical items, sports goods, renewable energy and many more. It is a matter of exploring the possibilities and executing trade, he said.