Indian, global students build school infrastructure
SMA Kazmi
Tribune News Service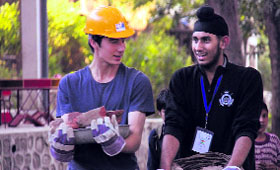 A foreign student with his Indian counterpart at the site.
Dehradun, December 23
It was a unique experience for 21 students and eight adults from eight countries to participate in the Round Square international project organised by The Doon School at Katapathar, 15 km from Vikasnagar in Dehradun, from December 8 to 22.
These students, during their project, built infrastructure at Maharaj Kumar Jagut Shamshere School at Katapathar. "Working with mud and mortar and putting in hard labour, these students built toilets, a playground, a retaining wall and other infrastructure for poor school students," said Ambiksh Shukla, coordinator of the project from The Doon School.
These 21 students from India as well as abroad came from St Phillips College, Australia, Westminister School, Australia, Markham College, Peru, Westfield School, UK, St Cyprians School, South Africa, Redford College, Australia, Brookhouse School, Kenya, Vivek High School, Chandigarh, Punjab Public School, Nabha, Mayo College, Regents School, Thailand, and The Doon School.
"It is a great experience. I have learnt more about different cultures and now I have new friends. I had a great time with schoolchildren at Katapathar school. I will never forget this time. I am sad that all these people I have met need to go back to their countries but I know we will remain in touch forever. This trip has opened my eyes and I am glad of it, as I see life in a different way now," said Francesca DeSouza Ferreira from Markham College, Lima, Peru.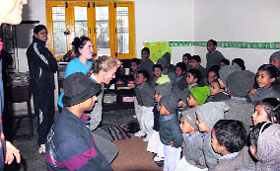 Foreign students teach children at a Katapathar school in Dehradun district as part of the Round Square international project.
Round Square is a world-wide association of more than 100 schools on five continents and 25 countries sharing unique and ambitious goals. It was started by educational philosopher Kurt Hahn of Germany, one of the 20th century foremost revolutionaries in education who believed that schools should have a greater purpose beyond preparing students for college and university.
During the project, the students built four toilets and urinals, two each for girls and boys in the school. The soak pit was made using nearby stones and without using cement mortar for plastering and hence its expected life would be next 20 years at least. A retaining wall was also constructed to strengthen the entire building. A playground with equipment, a sandpit and a chain link fence enclosure for the safety of children was also constructed by the students. A jungle gym and a pair of swings were purchased from the contributions from students of St Phillips College, Alice Spring, Australia.
A total of 11 tables and 44 chairs were made using environmental friendly and cost-effective techniques. These were painted entirely by the Round Square team. The electrification and earthing of the entire school building was also done by the team.
"It is hard to put such an eye opening experience into words. I am still figuring out what this experience means to me. All I know is I have shared it with some pretty amazing people," said Julian McNamara from St Cyprian College, Cape Town, South Africa.
A small study was also undertaken to measure anaemia prevalence among schoolchildren and the haemoglobin level of all students was measured by Dr Lalpathlabs. The weight of the children was also measured. Then they were given one boiled egg daily for 3 weeks and their weight was again measured at the end. This was done keeping in mind the high prevalence of protein energy malnutrition which is very common among rural economically backward children
A dental screening camp was also conducted. Basic hygiene and the benefits of brushing the teeth was explained to all children and they were motivated to do it daily. The children were given medicines for deworming.
The team also established a computer centre with six computers with networking system.At present, the school has 55 students sharing three classrooms, three teachers and one support staff. The token fee averaging Rs 65 per child is adequate to cover approximately 50 per cent of the expenses and the salaries of the school. The remaining 50 per cent is borne by the family of the trustee who run the school.
In 2009, the trustees requested The Doon School to help for the benefit of village children and improving overall facilities and infrastructure for providing quality education to the children of surrounding villages. The Doon School started a project to improve the facilities in the school.
In January 2010, when the heads of Asia and Gulf region, headmasters and member of friends of Round Square came to Dehradun and on the proposal of the Headmaster of The Doon School, Dr Peter McLaughlin, director Sumer Bahadur Singh and all heads of schools very generously, happily and promptly agreed to adopt this school as a Asia and Gulf Regions project.
"India has changed my life and I will never forget the incredible people I shared this experience with," said Natalya from St Phillip College, Australia, at the conclusion of the project.