The tribune 130 years
a witness to history
book released by prime minister manmohan singh

Guide to best colleges

Results of Punjab Assembly Polls 2012

EARLIER FEATURES


Rape & suicide: HC says enough is enough
Chandigarh, December 28
"Enough is enough", the Chief Justice of the Punjab and Haryana High Court today asserted, while taking suo-motu cognizance of news reports on suicide by a minor over alleged harassment by the police after rape. Chief Justice Arjan Kumar Sikri also drew a parallel between the law and order situation prevailing in Delhi and Punjab, and minced no words to say crime against women was on the rise in the state.
Telangana decision in a month, says Shinde
New Delhi, December 28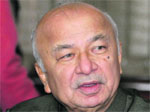 Union Home Minister Sushil Kumar Shinde today said a decision on a separate statehood for Telangana would be taken within a month. He said this after meeting with representatives of eight political parties from Andhra Pradesh here this morning.
I will brief the government on the outcome of the meeting and within one month we will come out with a result. Within one month, there will be a decision.— Sushil Kumar

Nurse suicide
Prankster RJs may escape facing charges: Oz police
Melbourne, December 28


Two Sydney-based Australian RJs, who pulled off a controversial royal prank on a UK hospital treating pregnant Princess Kate which led to the suicide of a British-Indian nurse, may escape facing criminal charges.
Australian RJs Michael Christian (left) and Mel Greig who pulled off the royal prank, which allegedly drove Indian-origin nurse Jacintha Saldanha to suicide.

PM pitches for phased hike in fuel prices
December 28, 2012
Govt sets up judicial panel to probe Capital gang rape
December 27, 2012
Constable hurt in protests dies,
8 booked for murder
December 26, 2012
2 ACPs suspended, trial from Jan 3
December 25, 2012
PM says anger genuine, promises women's safety
December 24, 2012
Public ire mounts: Protesters brave teargas, water cannons
December 23, 2012
Delhi HC slams police for being evasive in rape probe report
December 22, 2012
Cong wrests Himachal, Modi scores a hat-trick
December 21, 2012
Fifth accused detained in Bihar
December 20, 2012
Delhi rape horror sparks outrage
December 19, 2012
RS votes for quota in govt job promotions
December 18, 2012
6 soldiers killed in Siachen avalanche
December 17, 2012