Tractor-trailers ply illegally in many parts of city
Dharmendra Joshi
Tribune News Service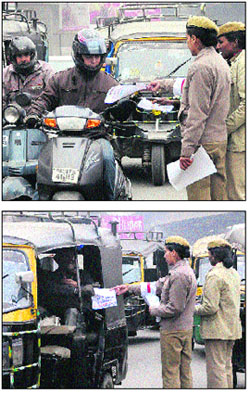 Traffic Police personnel distribute traffic awareness pamphlets during Traffic Week in Jalandhar. Photos: Sarabjit Singh

Jalandhar, January 2
While the traffic wing of the city police commissionerate is observing Road Safety Week, a number of tractor-trailers are plying illegally in various parts of the city, giving an open invitation to mishaps.
Senior Deputy Mayor Kamaljit Singh Bhatia's only son Charanpreet Singh Bhatia, aka Channi, became victim of one such illegally plying tractor-trailer loaded with sand in the Avtar Nagar area a few months ago.
The tractor-trailer, loaded with soil, sand, brick kilns and other building materials, are plying illegally in various parts of the city, including areas from PAP Chowk to Maqsoodan on National Highway Number 1, Nakodar Road, Sodal Road, Devi Talab Mandir Road, Avtar Nagar Road, located on at the back of the TV centre and Domoria "Pull" road.
Interestingly, some of these tractor-trailers also plying on those old parts of the city where the entry of heavy vehicles is prohibited from 8 am to 8 pm.
Apart from Charanpreet Singh's death, a number of other fatal accidents with such illegally plying tractor trailers have taken place from time to time.
According to information, the tractor-trailers having yellow number plate may be used for commercial purposes.
On the other hand, tractor-trailers used for agricultural purposes cannot be used for commercial purposes except for agriculture-related purposes. However, many of such tractor-trailers are being used for carrying soil, sand, brick kilns and other building materials openly.
Meanwhile, the traffic department of the city commissionerate held a free pollution check-up camp and session providing information about traffic rules for the general public at Workshop Chowk on Wednesday.
The public was apprised of traffic rules and their significance in minimising mishaps on this occasion.
Traffic wing of the city commissionerate gave several booklets containing information regarding rules to a number of persons passing through the busy BMC Chowk on day one on Tuesday of its special awareness campaign as part of road safety week.
Besides reflectors were also fixed on over 2,000 vehicles, including two-wheelers (scooters, motorcycles), three-wheelers (auto-rickshaws, rickshaws) and four-wheelers (cars, jeeps etc) at BMC Chowk for minimising the risk of mishaps during fog and darkness.
Additional Deputy Commissioner of Police (ADCP) traffic Sukhdev Singh Sandhu, Inspector Sukhdeep Singh and traffic cops Shamsher Singh, Ramesh Lal and Narinderjit Singh played an important role in spreading awareness among general public passing through BMC Chowk.
The traffic wing has chalked out a detailed programme to spread awareness among the citizens about the importance of following rules for minimising jams and accidents.
As per the campaign started from January 1, ADCP (Traffic) Sukhdev Singh stated that a free medical check camp would be held for the drivers of various vehicles at Pathankot Chowk located on the national highway on Thursday noon.
In the same way, an awareness rally for spreading the message of significance of adhering traffic rules would be taken out from Guru Nanak Mission Chowk to BMC Chowk on Friday afternoon, he added.
ADCP Traffic said an awareness seminar regarding traffic rules would be held for drivers of auto-rickshaws and rickshaws near the Jalandhar city railway station on Saturday noon.
Similarly, a traffic awareness seminar would be held for students at KMV Sanskriti Public School on the Tanda road, he added.
Sukhdev Singh said citizens might get rid of regular jams and accidents might be minimised by following the traffic rules.