Bone-chilling weather brings warmth to these shopkeepers
Dharmendra Joshi
Tribune News Service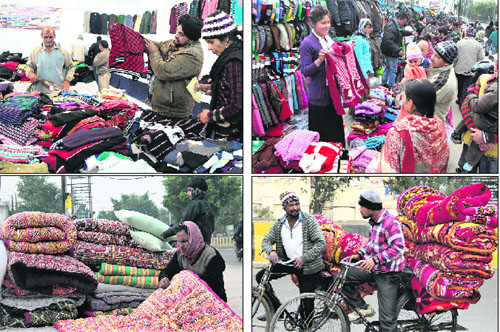 (Clockwise from top left) Residents purchase woollens at a sale in Virsa Vihar, near Namdev Chowk; some buy from roadside vendors near Jyoti Chowk; vendors sell quilts in a locality; and a migrant labourer stitches a quilt at a roadside in Jalandhar on Wednesday. Photos: Sarabjit Singh
Jalandhar, January 9
While the bone-chilling weather conditions have thrown normal life out of gear with trains running several hours behind schedule and all primary schools in Punjab having been closed, it has at least brought smile on the faces of many shopkeepers selling woollen items.
The prolonged cold spell becomes a boon for shopkeepers selling various items, including woollen garments, quilts, blankets, dry fruits and groundnuts. Their sale had increased exponentially as compared to the same period during the previous years.
The sale of winter snacks like gur (jaggery), sugar made gachak, revri, dry fruits and groundnuts, sut laddus, chirvare (beaten rice), bhugga and khajoor made of sugar and other eatables has witnessed significant rise despite the fact that the prices of most of these items have increased by over 10 per cent.
Satnam Singh, a shopkeeper near Attari Bazar, said he as much sold groundnuts and gachaks he sold in the past year. His sale is likely to be at least double as compared to the last year as the cold spell may continue for a few more weeks, he added.
Satwant Kaur, a customer, said, "Groundnuts and gachaks are rich source of energy and people of all age groups like them, especially during the winter."
Many shopkeepers selling woolen clothes claim they have already sold more than what they sold in the last winter.
Shiv Kumar Jain, manager of a Ludhiana-based factory RN Oswal, said, "We have been holding special sale of woollen items, including women and men's sweaters, cardigans, coats, caps and socks for over a decade. But this year, our company has already sold 125 per cent more woollen garments as compared to the last winter." RN Oswal is holding special sale of its woolen garments at Virsa Vihar near Namdev Chowk.
"If the extreme cold continues, the sale will definitely be 150 per cent more than the last year," he added.
A huge rush of customers was seen in Rainak Bazar, Attari Bazar, Sheikha Bazar, Mitha Bazar, Jyoti Chowk area in the city. A number of customers were also seen at the Tibet Refugee Market at Shaheed Udham Singh Nagar also.