Biswas' creations have amalgamation of style, sensuality, grace
Aparna Banerji
Tribune News Service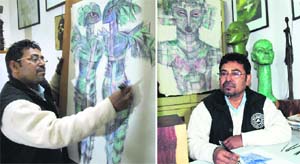 Artist Basudeb Biswas with his works at his studio in Jalandhar. Photos: Sarabjit Singh
Jalandhar, January 7
Craft and a passionate love for nature are his inherent traits. These are the attributes that render his works a rare grace and poise and make him one of the most sought-after artists from the region who have gone on to make it big nationally.
Born in Bangladesh, bred amidst the serene beauty of the Andaman and Nicobar Islands and tutored at Shantiniketan, painter and sculptor Basudeb Biswas has never ceased to share the richness of the aesthetic treasures he absorbed, ever since he started teaching in Jalandhar in 1985.
Recently presented the All-India Fine Arts and Crafts Society (AIFACS) award for his mixed media bust in wood and metal, he has always caught the fancy of the selectors with his unique style statements.
Both his paintings and sculptures have that rare amalgamation of style, sensuality and grace, which many stalwarts have complimented him, and is not easy to find.
Be it a tall earthy maidens in bronze, women etched in multiple nibs (which also fetched him many awards), wood and nail romance or pouted, stylish women of his marble and terracotta sculptures, one trait common to all the works is an inherent passion and respect for the female form.
Born into a family of farmers, Biswas, father was a farmer as well as a carpenter famous for making boats (often customised ones). Craft, thus, came inherently to him.
"I always noticed that crafting things seems very effortless for me. I never feel I am working too hard, it comes to me naturally."
From Bangladesh the family moved to Andaman in 1964, where his love for nature thrived and when he went to pursue his graduation (and master's) degree in fine art at Shantiniketan, Biswas' talent blossomed amidst oodles of art and the peace of his environs.
Even though it was the strife-ridden terrorism time during which he got a job in Punjab, his early lessons in harmony constantly reflected in his works, which they do until now.
The Apeejay Institute of Fine Arts where he began teaching as a professor in sculpture, got its first fine sculpting lessons and terracotta furnace through him. Joining under then Head of the Fine Arts Department Mahinder Singh Kundal, Biswas simultaneously flourished as an artist.
He won merit awards from the Punjab Lalit Kala Akademi, Chandigarh, in 1986, 87 and 90 and state awards from the Punjab Lalit Kala Akademi, Chandigarh in 1989, 92 and 2004.
His first national award in sculpture under the AIFACS happened in 2007 and subsequent national awards came in 2009 and 2012.
While his academic (and commercial) success has established him as one of the few artists of national repute in Punjab, he has also been noted for his untiring efforts to promote art in the city and among his students.
Speaking about the state of art as a subject in academic institutions in Punjab, he says, "A lot more experimentation and a much more professional environment for art is needed in colleges. While theoretical knowledge is good enough only for the exams, for students to really excel in the field of art, they need to be exposed to be more professional experiences. Presently, requirement of art, as a professional subject, is not being fulfilled."
Talking about the state, he says, "The representation of Punjabi artists in the Punjab Lalit Kala Akademi is lesser as compared to Chandigarh. More attention needs to be paid to Punjab. The majority of the members of the governing body of the Punjab Lalit Kala Akademi needs to be from Punjab."