WASPS prove that they can sting
Gurdeep Singh Mann
Tribune News Service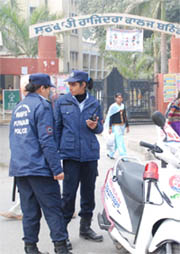 A WASP team outside Rajindra College. Tribune photo: Pawan Sharma
Bathinda, January 18
The Women Armed Special Protection Squad (WASPS), formed recently to tackle incidents of eve-teasing, is proving to be effective in checking eve-teasing and inspiring confidence among the girls.
Deployed to check crime against women, the WASP units have made their presence felt by rounding up youngsters in more than five cases in the last one week.
The unit was formed following concern over the safety of women after the brutal gang-rape and murder of a 23-year-old girl in Delhi.
Twenty female cops have been deployed on ten specifically designed Honda Activa scooters equipped with modern gadgets and weapons to tackle eve-teasing and crime related to girls.
Braving the chill, the female cops are making the rounds of the city and the educational institutes in search of anti-social elements. Police officials said though the number of cases is less, the presence of the WASP units in the field has increased the morale of the girls to a great extent.
Educationists in the city said the visit by WASP units to their institutes has instilled confidence among the girls who now feel secure in public places.
The WASP units are interacting with the school and college girls on a regular basis and remain in touch with the heads of institutes.
The girls are trained to react spontaneously and to nail the guilty without wasting time. So far, the units have answered five distress calls and helped three others. A WASP unit got a phone call from a girl at the bus stand a few days ago. The girl had accused a boy of harassing her over the phone. The boy had told the girl to reach the bus stand where he wished to see him. The girl, to teach the boy a lesson, contacted the WASP unit. The accused fled from the spot after spotting the police unit. The female cops gave their contact number to the girls and assured help if the boy called her up again. Similar problems were tackled at various other points in the city.
"An example of this unit's swiftness could be gauged from the fact that a teenager passed a comment on these girls and disappeared but was caught immediately," said Senior Superintendent of Police (SSP) Ravcharan Brar. Brar said the aim of these female cops is not only to check crime against women but also to keep the morale of the girls high.
The SSP said the female cops are quite sensitive to the daily problems faced by the girls at public places. Their very presence has brought down the number of eve-teasing to a great extent, he added.
Member of Parliament Harsimrat Kaur Badal had flagged off the WASP units on January 10 to provide instant solution to the problems faced by the girls at public places and near the educational institutions.