Lack of facilities at R-Day rehearsals
Thin attendance of students hampers the practice y No medical team present at the sports stadium
Nikhila Pant Dhawan
Tribune News Service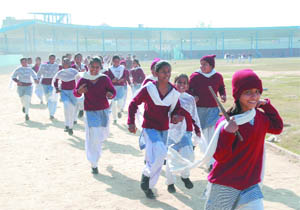 Students of Police Public School, SSD School and Rajindra College take part in the Republic Day rehearsals at the Multi-purpose Sports Stadium in Bathinda on Monday. Tribune photos: pawan sharma
Bathinda, January 14
Day I of the Republic Day rehearsals, being conducted at the Multi-purpose Sports Stadium in the city, was marred by the lack of basic facilities for the students participating in the rehearsals. Surprisingly, students of various schools and colleges gave the rehearsals a miss.
Students from various schools are to present cultural programmes and in-charge of these programmes is the Additional Deputy Commissioner (Development).
During a meeting convened by the Deputy Commissioner Kamal Kishore Yadav a few days back, he had directed that besides the school students, participation of college students should also be ensured.
The full dress rehearsal will be organised on January 24.
High absenteeism
Students of only the Police Public School, SSD School and Rajindra College were present at the stadium for the rehearsals.
However, as many as 20 students from DAV College were absent during the rehearsals. This included 15 boys and five girls. Similarly, students, 20 boys and 10 girls, of the Punjab Technical University Giani Zail Singh Campus did not attend the rehearsals. As many as 30 boys from ITI Bathinda, 30 girls from the Khalsa Girls College and MHR School were not present during the rehearsals.
Saving water
The authorities seem to have taken the 'Save Water' concept to a new high. Not only was the ground at the stadium not sprinkled with water, there was no arrangement of drinking water for the students. During the rehearsals for the Independence Day last year, a water tanker with a hose was the only source of drinking water for the rehearsing students.
No medical facility
Although the sun has been shining bright, keeping in view the chilly weather, the DC had directed the health department to keep its team stationed at the stadium during rehearsals to meet with any eventualities.
Without caring for the directions, no medical facility was available at the stadium on Monday.
No refreshments, transport facility
While on Day I, the rehearsals started a little later than 10 am, Tuesday onwards, it will begin at 10 am and will continue till 12 noon.
There is no arrangement for refreshments for the students who will rehearse for two hours.
While speaking to Tribune News Service, Assistant Education Officer (AEO) Pavitar Kaur said, "Refreshment is provided to the students only during the last few days of the rehearsals."
She also added that although schools or colleges are provided conveyance facility to ferry the students to and from the stadium, none of the schools has asked for it till now.
"If a school or college, located at a distance from the stadium, asks for the conveyance service, we will arrange for it with the help of the District Transport Officer. But till now, we haven't received any such request," she said.