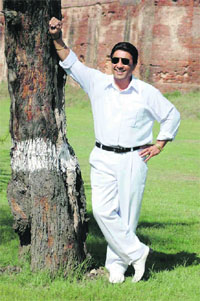 Once upon a time in Punjab
They have seen it all— the change, the ups and downs of the movement called Punjabi cinema. Vijay Tandon, Deep Dhillon, Rana Jung Bahadur and others talk about the industry— then and now
With countable days of experience by our side, we qualify ourselves in the 'been there done that' category. We can't help but boasting about the good and bad of both the worlds, some of us actually take it a little far and write a book on our limited experiences. Turning to these people in the Punjabi film industry, who have seen a world of change in the past 30 years, seen the lows and highs, the better and the worst, stand to talk about what they modestly call 'the beginning of their lives and careers'
strong presence: Deep Dhillon
| | |
| --- | --- |
| Sikander Singh | Roopinder Singh |
A mirror to the past
Sikh Heritage: Ethos and Relics, a literary work by Bhayee Sikander Singh and Roopinder Singh highlights the essence of Sikh history
Sikh history is rich with the tangible heritage of the Sikh Gurus and their followers, and there are well-preserved relics of the same. They glorify the Sikh heritage, but yet have not been given their place in the sun. Sikh Heritage: Ethos and Relics is a sincere effort made by co-authors, Bhayee Sikander Singh and Roopinder Singh to present the Sikh relics against the backdrop of the essence of Sikhism.
Take a chill pill
Winter gives us a host of reasons to be happy. Here's a list of some…
It's the last leg of the season…for some it may mean some more endurance testing but for others, the winter lovers, it's a treat extended for a few more days! We check out what city folks love doing on cold days and chilly nights: It is the best time of the year for Neha Sharma, an English trainer: "I love waking up to misty mornings, dress warm and head out for a walk. There are hardly any people on the road (what a blessing) and one can soak in the nature and get back refreshed."
Pixel perfect
The annual exhibition of Chandigarh Lalit Kala Akademi highlights the conventional and unconventional mediums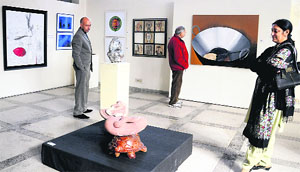 Sometimes movement is more important than an improvement. Each year, the Annual Art Exhibition 2012 by Chandigarh Lalit Kala Akademi promises a perceptible change. Somewhere in the names, at times in the works; this while it's in the mediums. From etching and aquatint, pen on sheet, etching and chine colle to pen and ink; there's a breather from the generally dominated oil on canvas and acrylic on canvas. Shares Diwan Manna, chairman, "This year, for the first time, we have a video installation. While it is very common at other places in the country, in Chandigarh, that is not the case. At least, it's a first by the Akademi."
Warm treat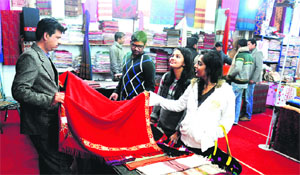 A range of lovely, warm woollens is available at Lajpat Rai Bhawan-15. The craft persons from various parts of the Himachal Pradesh are at the Wool Utsav to display and sell their handloom products. The handloom on display are Kullu woollen shawls, Kinnouri shawls, pure Pashmina shawls, angora shawls and stoles.
I am very busy : Huma Qureshi
After starting her career as the feisty wife of a gangster in Anurag Kashyap's Gangs of Wasseypur, actress Huma Qureshi is looking forward to a busy year ahead with the release of two films - Ek Thi Dayan and D-Day.
Lady Gaga to perform at White House
Pop star Lady Gaga will reportedly join the long list of artists performing at President Obama's second inauguration ball. The 26-year-old Judas singer is slated to perform at a ball for White House staffers on January 22, reported a magazine.
And the award goes to…
The Filmfare nominations are out and the awards will be aired next month. We predict the winners
Sure shot
Best Actor (Female): Vidya Balan was the hero of the movie and single-handedly took it forward. We were stunned by her performance and the trophy belongs to her for yet another smashing performance.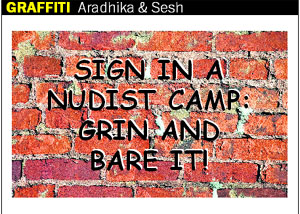 Family girl
Actress Naomi Watts says she is happy that her upcoming movie with Robert Pattinson has been delayed because now she can spend more time with her family. Watts, 44, who is married to actor Liev Schreiber, 45, since 2005, said she is eager to take some time out with her sons Alexander, five, and Samuel, four, reported a publication.
In bad taste
Reality TV star Kim Kardashian is furious after a prank caller had a heavily armed swat team rush to her family's home claiming a shooter was present.
I wasn't drunk at the Oscars 2012: Emma
Actress Emma Stone has denied reports that she was drunk when she presented an Oscar at last year's Academy Awards, insisting that she was simply playing for laughs.

Watch out for Bieber
The Departed star Mark Wahlberg plans to start work on his new film with Justin Bieber next year. The 41-year-old actor says that the pop star's people are excited about teaming up with him for a new basketball-focused motion picture, reported a publication. "We were at Paramount pitching a different movie and we had the meeting and I said, 'Hey, by the way what do you think about me and Justin Bieber in a basketball, street hustler movie?' They bought it in the room in five seconds. So we developed the script, the studio loves it, his camp loves it," he said.
Accessorise your staircase
Staircase railings were earlier designed to serve a practical purpose, to help make your trip up and down the stairs easy and safe. Today, in addition to its functionality, railings add a great deal to the look of your stairs and home. They give stairs a visual presence and make a staircase a work of art. There are various options to choose from that will suit your decor and style.
stress buster
Start early, stay focused
Time for kids to go back to school and a certain amount of stress is already settling into their lives and their parents' lives. Parents are stressing over their kids' schedules and children are going through their own set of anxieties. It is extremely essential that students learn to keep their stress levels at bay as their entire performance in every sphere is dependant on their state of mind. If the mind is relaxed and stress free then they are happy kids with a high performance rate but if they are stressed children, their functioning levels plummet in all areas of life.
chatter box
More to entertainment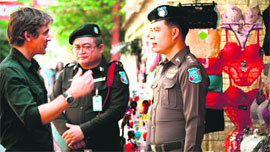 National Geographic Channel brings two brand new shows this January. Scam City, a new series that exposes the darker side of tourism is all set to premiere on the channel on weekends at 10 pm. And reality series, Fin Fighters that traces the hard life of a special breed of fisherman in Gloucester, Massachusetts, will thrill audiences on weekdays at 8 pm from January 21.
hard hitting: a still from scam city
The year ahead
If your birthday is January 21...
If you are already in a relationship then it is the perfect time to take it to the other level that is engagement. Students can expect better results in their exams. Your life is going to be extraordinarily good. Your stars are blessing you and giving you the best of what they have. You might indulge yourself in some spiritual activity and will be a part of religious events throughout the year.
Astro Turf
ARIES: 'The Prince of Pentacles' infuses financial stability. You will be appreciated for your culinary talent. A happy surprise awaits you. Love stars twinkle. A good day to purchase ornaments. Tarot message: Don't do anything at the cost of your health. Time heals everything. Lucky colour: Red. Magic number: 43