Doaba College holds seminar on media and human rights
Tribune News Service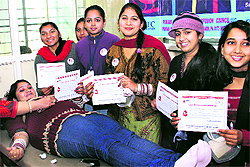 A student of the St Soldier Group of Institutions donates blood at a camp

Jalandhar, January 22
The PG Department of Journalism and Mass Communication of Doaba College organised a seminar on "Media and human rights". Dr Navjit Johal, Head, JMC, Punjabi University, was the keynote speaker.
Dr Ajaib Singh Brar, Vice-Chancellor, GNDU, was the chief guest. Dr H.S. Walia, Director, IAS Training Centre, Punjabi University, and Dr Manoj Dyal, Dean, Faculty of Media Studies, Guru Jambheshwar University, Hisar, were special invitees.
Chander Mohan, president, Arya Shiksha Mandal, Principal Dr Naresh Kumar Dhiman and Prof Simran Sidhu, HoD, welcomed the dignitaries.
Dr H.S. Walia and Dr Manoj Dyal acted as the chairpersons for two technical sessions. Nearly 16 research papers were presented by scholars in the seminar. Chander Mohan, Principal Dr aresh Kumar Dhiman and Prof Simran Sidhu presented mementos to the speakers and dignitaries. The staff and students were present on the occasion.
Tennis championship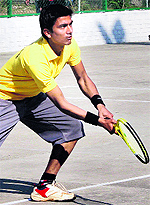 A player in action during the North-Zone's Inter-University Tennis Championship (Men) at the Dr BR Ambedkar National Institute of Technology in Jalandhar on Tuesday. Tribune photographs

The Dr B.R. Ambedkar National Institute of Technology (NIT) is hosting the North-Zone's biggest Inter-University Tennis Championship (Men), which began today. In this championship, which will continue till January 29, around 120 players and 30 teams from universities of the north zone are participating.
The tournament is being held at the lawn tennis courts in the institute. The results of day one are: University of Allahabad beats CCMU, Meerut, by 3-0; CDLU, Sirsa, beats Jammu University by 3-0; LPU, Phagwara, got walk over PEC, Chandigarh; PAU, Ludhiana, got walk over Lucknow University and CSME, Kanpur, got walk over GJUST, Hisar
Placement drive
Abacus Business Operations and Tommy Hilfiger conducted a placement drive for MBA students at the CT Group of Institutions. The students of MBA, who are going to pass out in 2013, participated in the event.
Two students Ajay Kumar and Ashok Kumar were selected by Abacus Business Operations, whereas seven students by Tommy Hilfiger from the CT Institute of Management and Information Technology, Maqsudan.
The students selected by Abacus would get the salary package of Rs 3.1 lakh per annum. After attending pre-placement talk, the students had undergone the selection criteria based on group discussion and personal interview. The selected ones will join their duties in Ludhiana in June.
Seven students of MBA, 2013 batch, have been selected for the post of Customer Relationship Officer (CRO) in Tommy Hilfiger at a package of Rs 2.1 lakh per annum. Out of seven successful students, six are girls - Pallavi Dogra, Gursharan Nijjar, Yamini Thakur, Bindu Thakur, Dipti Sharma, Amandeep Kaur - and Rohit Sharma.
Fashion show
A fashion show "Believer in Beauty" was organised by the Fashion Designing Department of Hans Raj Mahila Maha Vidyalaya (HMV). Students of B.Sc, PG (Fashion Designing) and M.Sc (Fashion Designing) participated in the event. In the fashion show, there were various rounds in which students exhibited their creativity.
On the ramp, models showed traditional suits, Western gowns, male dresses based on wildlife, patriotic dresses and street fashion. Principal Dr Rekha Kalia Bhardwaj appreciated the efforts of the Fashion Designing Department.
She said the fashion show provided a platform to young designers for exhibiting their talent. On this occasion, Sunita Saggi, Neety Sood and other teachers of the department were also present.
21 students get job offers
ICICI Securities and Asahi India Ltd have selected 21 students of Lovely Professional University as relationship managers/management trainees (sales and operations/finance and accounts). The selected candidates will join their duties in June with an annual salary package up to Rs 3 lakh per annum plus incentives and variables. For these drives, students of MBA (marketing/finance) final year were eligible. Prior to selection, the selected students faced PPT, group discussion and interview.