Spreading classical wisdom among kids
SPIC MACAY founder Dr Kiran Seth speaks on culture, etc
Aparna Banerji
Tribune News Service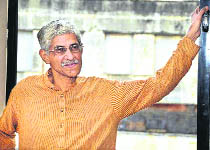 Dr Kiran Seth
Jalandhar, January 14
In a world ruled by transactions and deals, his is the rare network which has its foundations deeply embedded in the bedrock of "nishkaam sewa", selfless volunteerism and humility. As a professor of mathematics from the IIT, Delhi, he sowed little seeds in 1976 and lakhs reap the cheery harvest of musical wisdom until now.
His deep respect for Indian classical music and resultant efforts to promote it have translated to the fastest growing, unadulterated movement for the spread of classical music in the country. Beginning with a quaint little concert, attended by not more than five people, Dr Kiran Seth's SPIC MACAY network today boasts of 300 chapters across the country, which organise thousands of programmes every year to give students precious peeks into India's cultural heritage.
As a student at the IIT, Kharagpur, back when he was 16, he had tagged along with friends at concerts and sat as a casual observer, listening to masters perform. But the revelation in classical music came during one of the concerts that he attended at Columbia University.
One of the most moving musical experiences of his life, the Dhrupad concert by Ustad Nasir Aminuddin Dagar and Ustad Zia Fariddudin Dagar (at the Brooklyn Academy of Music in New York) where he heard the masteros singing "Poojan chali Mahadev", acted as a trigger for the course his future would take.
Joining the IIT, Delhi, as a professor of mathematics in 1976, he, along with some likeminded students, formed the Me FORG (Mechanical Engineering Final Year Operations Research Group). Later, the group was named ME FYS and eventually got its name SPIC MACAY (Society for the promotion of Indian Classical Music and Culture Among Youth) in 1979. The movement began growing organically as his students spread to different parts of the country.
Yoga and folk modules were introduced to it. SPIC MACAY also began introducing children to classical (and other) music from foreign cultures - Chinese, Japanese and Norwegian - among a host of others.
Especially touched by the Norwegian Government's policy, Dr Seth shares, "In Norway, by law, every child has to be exposed to at least two concerts a year. If the law chooses to keep children abreast with cultural experiences, growth is inevitable."
SPIC MACAY has a special link-up with the Norwegian Government wherein artistes from both countries visit the other.
As far as the state of culture in India, in the present context, is concerned, he feels there is plenty to worry about and a lot to do. "I grew up in Bengal where mothers used to take children to 'stiff' (dealing in complex musical disciplines like Dhrupad, etc.) concerts. Protests were not put up with and parents made sure that children attended them. Those children grew up to be fine human beings," says Dr Seth.
The same needs to be done now, he feels.
Talking about the government's role, he says, "The government's stance can be gauged from the fact that India's budgetary allocation for culture is a mere 0.13 per cent."
SPIC MACAY, itself, unfortunately, is on the receiving end of this systemic disregard for culture. Dr Seth says, "Presently, we are Rs 2 crore in the red. In 2010, we were getting grants of Rs 2 crore. In 2011 it was 1.5 crore and in 2012 our allowances from the Ministry of Culture were reduced to Rs 1 crore. Thankfully we have our supporters who will rescue us from the predicament."
In a scenario where government high-handedness and the masses' ignorance choke culture (with many poignant Indian arts also falling prey to it), he feels one of the solutions to the crisis is making cultural education a part of the school system.
"Schools which have doled out lessons in music and traditional arts have produced the most accomplished breed of human beings," he says.
His reactions to the oldest Indian classical music festival being hosted in Jalandhar are also mixed.
Dr Seth and his team visited the Harivallabh Sangeet Sammelan this December for SPIC MACAY's winter intensive.
"It is heartening to see a bunch of industrialists taking out so much time from their busy schedules to promote the Indian classical music. The moment I expressed a wish to come here this year, they volunteered to fund the stay of the SPIC MACAY team during the intensive," Dr Seth said.
"I was also very pleased to see the pratiyogita. I personally detest competitions, but the contests here, I observed, are a great platform to showcase classical talent among youngsters," Dr Seth added. But he does believe that Harivallabh, too, has room for improvement.
"It was the fifth or sixth time that I attended the Harivallabh. But the quality of the music here is certainly down. This year's was probably the least impressive Harivallabh that I saw. It is the oldest classical music festival and it needs to be taken very seriously," he said.
I believe the quality of the festival can be greatly improved if suggestions about artistes to be included are sought from a central, all-India advisory constituted specifically for the purpose. There are many talented artistes in India who are deserving, affordable and would be willing to come to the festival. The final decision to select artistes, however, should rest with the Harivallabh committee," said Dr Seth.
SPIC MACAY continues to serve classical treasures to the country with unparallel zeal and the movement recently also announced expansion plans in Punjab as well as taking the movement to schools in the rural areas of the country.