NIA student files FIR against director for cheating
Dehradun January 28
Nishant Parashar, a student of the National Institute of Aeronautics, cantonment, has filed an FIR against the Director of the institute, Jitender Kumar, for cheating him of Rs 18,70,000.
Man involved in theft at Kumbh Mela arrested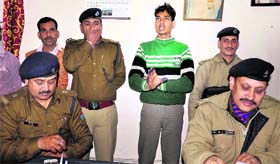 Haridwar, January 28
The Haridwar police arrested a person involved in a major theft during the ongoing Kumbh mela at Prayag in Allahabad from the railway station here today.



SP (City) KL Shah and ASP Ajay Singh present the accused in the Kumbh Mela theft case, Vikas, before the media in Haridwar on Monday. Tribune photo: Rameshwar Gaur

Jaunpur villagers against eco-sensitive zone
Mussoorie, January 28
Fearing the counter effects of the move by the state Forest Department to introduce an eco-sensitive zone (ESZ) around the Benog Mountain Quail Wildlife Sanctuary, the Jaunpur villagers have registered their opposition by forming Benog Sanctuary Hatao Samiti in the Kempty village yesterday.
Move to carve ESZs worries Mussoorie residents
Mussoorie, January 28
Residents of Mussoorie are living in fear following the order of the Centre to the state government to determine an eco-sensitive zone in 2 to 10 km area around the Benog Hill Sanctuary.
Butcher Khana residents living life of misery

Mussoorie, January 28
Residents of Butcher Khana have been forced to live a miserable life, which is affecting their health due to the overflowing sewage in their area, thanks to the apathy of the concerned department for the past several months in Mussoorie.



An overflowing sewage at Butcher Khana in Mussoorie.
Workshop to educate cops on investigation principles
Dehradun, January 28
Director General of Police (DGP) Satyavrat Bansal inaugurated a two-day workshop on, "Qualitative improvement in police investigation", in the auditorium of the Intelligence office here today. Ninety inspectors and sub-inspectors from across the state are attending the workshop.
ISO certification of Women's Hospital extended
Dehradun, January 28
The ISO 9001:2008 certification of the District Women's Hospital has been extended by three more years. The follow up audit for ISO 9001:2008 was conducted by a TUV SUD team lead by Dr Ved Prakash, a technical expert, and two other members on January 25.
Dhruv, Raghav make it to next round of tennis tourney
Dehradun, January 28
Dhruv Pal, Raghav Negi, Dhruv Sabharwal and Kunal Goel of Uttarakhand have entered the next round of the All-Indian Talent Series Tennis Tournament that started at Shanti Tennis Academy here today.
Twenty20 championship trials from tomorrow
Mussoorie, January 28
The trial selection for the under-25, Twenty20 Inter-District Cricket Championship will begin at Nand Kishore Bamboo Cricket Academy in Library Bazaar from January 30 and will carry on for two days.