Big tourist rush to Mussoorie creates traffic jams
Brief sunshine cheers up revellers
Fresh spell of snow in the hill town
Our Correspondent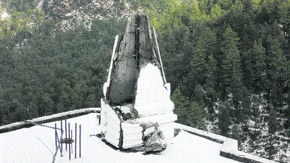 A tomb of Sai Temple that was damaged due to lightning a few days back.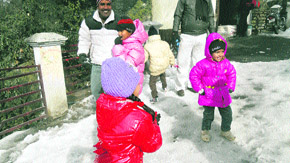 Children play with snow.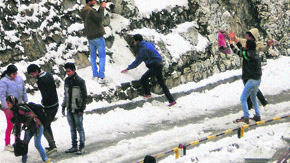 Tourists enjoy themselves with snow on way to the hill town on Saturday.

Mussoorie, January 19
The influx of tourists from surrounding areas continued in the hill town as people in large numbers arrived in their vehicles, creating a chaotic condition, resulting in traffic jams at several places here today.
The police, finding the going tough, placed barriers to stop the vehicles from going towards Lal Tibba and Landour as most of the vehicle owners found themselves in trouble with vehicles not moving an inch due to slippery conditions induced by heavy snow.
Later, the Mussoorie Municipal Council was forced to deploy the newly-inducted Bob Cat machines to remove the snow debris to make it easy for the commuters here, after which the situation was brought under control to some extent.
Meanwhile, tourists, braving the icy winds, walked on foot towards the places where the snow was still present. The brief period of sunshine brought cheers to the tourists, who heaved a sigh of relief from the intense cold being experienced here.
The overcast conditions later accompanied with a fresh spell of hail brought more cheers on the faces of tourists, who extended their stay in Mussoorie in expectation of more snow.
The snow also brought trouble for milk vendors as the Thatyur-Mussoorie road remained shut, affecting the milk supply to the town.
Photographers around the town had a field day as the tourists posed for pictures to take back home as cherished memories.
The power supply remained affected as areas such as Happy Valley and Gun Hill remained without electricity even after 36 hours.
When contacted, JE Swapnil Joshi said that major faults had occurred at several places and the supply would be resumed within a day.
Meanwhile, local MLA Ganesh Joshi paid a visit to the sites which were damaged due to the strong winds, thunder and lightning on Friday in Mussoorie today.
Ganesh Joshi arrived at Sai Temple and assessed the damage to the tomb which was struck by lightning. He also visited the site at Zyphire Hall in Kulri Bazaar and the State Bank of India building where the whole roof was damaged due to strong winds. The affected family member Vimal Nawani informed the MLA that his family could not sleep the whole night as the roof was blown away in the strong winds. He demanded adequate financial relief for repairing the roof.
Ganesh Joshi directed the officials to provide interim relief of Rs 2700 to the affected families at once and also directed the SDM, Mussoorie, to give the designated compensation on a priority basis.