Despite inclement weather, it's work as usual for daily wagers
Mussoorie, February 6
While most of the residents and tourists have remained indoors in the warmth of their cosy rooms, there is a section of society for which it is work as usual even in this inclement weather.
State may soon have first 26-metre-high building
Dehradun February 6
The state, which has restrictions on the height of buildings up to 21 metres, is moving towards having the first building of 26 metres height, if the proposal of Mussoorie Dehradun Development Authority is approved by the state government in the matter.
BJP MLA for referendum on capital
Pithoragarh, February 6
Reacting to Chief Minister Vijay Bahuguna's statement that Gairsain will be permanent capital of the state, BJP leader and Kashipur MLA Harbhajan Singh Cheema said the government should instead held a referendum on the subject.
Refugee remark on Punjabis flayed
Dehradun February 6
President of the Sikh Organization of India Mahender Singh Khalsa denounced those regional forces, which called people of the Punjabi community refugees and residents of the plains as outsiders.
DM inspects illegal plotting at Jaitunwala village
Dehradun February 6
District Magistrate BVRC Purushottam visited Jaitunwala gram in Dera tehsil today with regard to carving out of illegal plots by the land mafia on five hectare land. Purushottam spotted the plot on the land near the river. ADM Jharna Kamthan who began an inquiry into the matter on the direction of Purushottam, was asked to complete the measurement of the land as per the land documents available.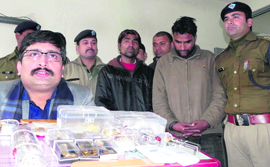 Gang of thieves busted; two arrested
Dehradun February 6
The city police has arrested Soni alias Sonu and Rohit alias Dibba, both from Dehradun, for committing thefts in Sahaspur and Vikasnagar in the state and Himachal Pradesh.
SSP Kewal Khurana with jewellery and other stolen items that were recovered from two persons in Dehradun on Wednesday.

Education Secretary meets Governor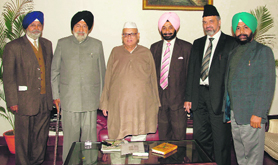 Dehradun, February 6
Rakesh Sharma, Principal Secretary (Higher education) called upon Uttarakhand Governor Dr Aziz Qureshi at Raj Bhavan today and gave the Governor detailed information regarding infrastructure in various state government universities, affiliation of colleges to universities and vacancies of lecturers in colleges.
Uttarakhand Governor Dr Aziz Qureshi meets a delegation in Dehradun on Wednesday.

DAV College ABVP chief Mahesh Jaguri arrested
Dehradun February 6
President of ABVP in DAV College Mahesh Jaguri was today arrested by the police for misbehaving with the college principal, indulging in hooliganism and damaging the college property on January 28.
DM meets zonal officers over polythene ban
Dehradun February 6
The District Magistrate today held a review meeting on polythene ban in the city and directed zonal officers to collect data bank in this regard and connect various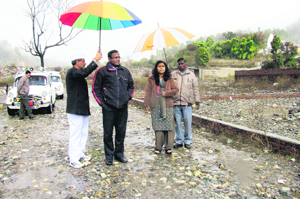 schools in the drive. He gave them the target of issuing 1,000 challans and raise the cost of a challan. He gave the target of 6,000 challans to the Dehradun Muncipal Corporation (DMC) and instructed Senior Health Officer, Dr Gurpal Singh, to issue challan book to DMC supervisors. He directed to place dustbins near shops. He directed them to challan the shopkeepers and consumers using polythene bags. TNS
District Magistrate BVRC Purushottam during a visit to Jaitunwala village in Dera tehsil on Wednesday.

Qureshi invited to Kumbh
Dehradun, February 6
Governor Dr Aziz Qureshi has been invited by Jagadguru Shankaracharya Swami Shri Swaroopanand Saraswati (Jyotishpeethadhishwar and Dwarka Shardapeethadhishwar) to Allahabad Mahakumbh. He has invited the Governor to address as chief guest the Ganga Yamuna Mahasammelan at Kumbh on Februray 7. Severel saints will be present at the sammelan which will discuss the need to preserve the purity of the Ganga. TNS
Notice to RGM Plaza operator
Dehradun February 6
The Mussoorie Dehradun Development Authority (MDDA) has sent notice to RGM Plaza operator on Chakrata Road with regard to demolition exercise on February 12. The MDDA will not only dismantle the shops built in the basement but also the area which is coming in the way of completing the work of laying down water pipes on the widened road. TNS