Shivaji section lifts RIMC English debate trophy
Tribune News Service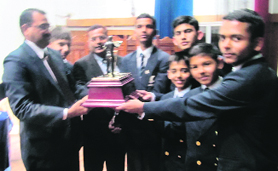 The cadets of the Shivaji section who have won the Inter-section English Debate Trophy of the Rashtriya Indian Military College (RIMC)

Dehradun, February 8
The Shivaji section began the term on a winning note as it lifted the Inter-Section English Debate Trophy of the Rashtriya Indian military College (RIMC). The debate was conducted in two categories: Juniors and seniors. The format for the juniors was on the Oxford pattern while the seniors contested in a parliamentary format.
The preliminary round for the seniors was conducted in the morning with the Shivaji section outclassing the Pratap section and the Chandragupta section getting the better of the Ranjit section.
The evening began with a heated debate among the juniors on the topic "Billions Should Not Be Spent on Space Exploration". It was a well-contested debate with many relevant points coming from participants who were debating for the first time.
The seniors showcased their mettle and debated on the topic "Multi-national companies are destroying Indian businesses". New speakers emerged and a keenly contested debate was seen. It was a tough time for the judges deciding who were the best.
Eventually the Shivaji section emerged victorious with a narrow margin. Ranjit, Chandragupta and Pratap sections shared the second spot, showing the quality of the debate. The individual prizes were as follows:
Preliminary rounds:
Best Speaker: Cadet Amit Kumar Rai
Juniors:
Second Best Speaker: Cadet Arunabha Chakrobarty
Best Speaker: Cadet Aman Vashist
Finals:
Second Best Speaker: Cadet Kaushal Kumar
Best Speaker: Cadet Amit Kumar Rai
Chief Guest for the evening was Col HS Bainsla, SM, Commandant, RIMC.
He was pleased with the oratory skills of the cadets and encouraged them to increase their vocabulary and keep continuing the same way. The judges for the evening were Annie Singh, Sanjay Kumar and Anamika Ghosh.
Other dignitaries present were Lt Col Ambarish Tiwari, Administrative Officer RIMC, CS Vishwakarma, vice-principle, RIMC, Wing Commander SK Thapliyal,
Maj R Richardson, Assistant Adminstrative Officer, RIMC, Lt Pinku Heikham and PK Sharma.